Morocco had always been a dream vacation for us. Yes, even with kids! It is about as close to the extreme opposite of Minnesota that one can find. We were attracted by the amazing food, varied geography, Arabic architecture, and a culture unique to that part of the world. In 2018, with a two- and four-year-old in tow, we decided to make our dream a reality. We booked a quick flight from our temporary home in Malta to Casablanca.
Below follows an itinerary that did a superb job of covering all the Morocco has to offer. This was the only time in our decades of travel that we hired a driver/tour guide. Looking back, I think we were just exhausted from driving in Malta (limited road signs, left hand side of the road, etc.) and were ready for a break. Add to that the extreme geography ranging from the snow-capped Atlas mountains to the Sahara desert, and it became clear that help would be appreciated.
Why Hire a Driver?
Hiring Jamal (our driver/guide) ended up being one of the best decisions we've made traveling. Not only was he an amazing tour guide and host, but he also has become a lifelong friend. We are still in touch and may have more cute pictures of him holding our kids or walking hand in hand with them than of ourselves! He is a true professional and an absolute gem of a person. He has since planned trips for many of our friends and they all agree. If you plan on taking your kids to Morocco, use our trip as a rough guide and PLEASE CALL JAMAL! We'll gladly put you in touch.
Also, eight days is cutting it close for this trip, especially if transiting through Casablanca. If you are coming from the US, we'd really recommend shooting for 9-10 days. That will give you time to adjust to your jet lag, relax a bit in Marrakech and Fez, and spend an extra day in the desert. Our only regret from this trip is not having enough time. It truly is a once in a lifetime experience and should not be rushed.
Day 1 – The Road to Marrakesh
Our trip started with a flight to Casablanca, largely because that was all that was our only option out of Malta. It left at 4:30pm and arrived in Casablanca at 7pm. We knew this would be a late night, so packed lots of snacks for everyone and made sure we ate dinner on the plane. We had our fingers crossed that they would fall asleep on the two and a half hour drive to Marrakesh. As is often the case, the younger one was out immediately and Henrik stayed up the entire time. That kid doesn't miss a thing! Jamal had put us up in a wonderful Airbnb for our stay in Marrakech. It was so nice having that extra space as we adjusted to the travel life. It was also exciting being able to explore a normal neighborhood without another tourist in sight!
If you can fly directly into Marrakech, we would recommend it. There are plenty of non- and one-stop flights from most major cities in the US. Casablanca is a cool city to visit, but not as cool as the rest of the country and is the one stop on this itinerary that could be skipped. That being said, if you are ever there, let us know and we can provide advice. I've visited multiple times for work and have always had a good time.
Day 2 – Marrakech in a Day
Our Airbnb was located in a suburbs of Marrakech, which made breakfast easy. We just walked out the door and down the street to the ubiquitous corner store. The French influence is very apparent in Morocco and our kids' favorite snack, fresh croissants, were readily available. Add some deli meat and yogurt and we were ready to explore. And coffee. Can't forget about the coffee.
Day one saw our first travel fail of the trip. The day before our trip, King Mohammed VI of Morocco, rightfully so, decided that he'd had enough with daylight savings time. So he went on the airwaves and cancelled it. All of Morocco knew this, but we did not. It happened so abruptly that the telecom providers didn't have time to update their software, so our phones still showed the old time. We were casually enjoying our breakfast when Jamal called. He was waiting at the door! We threw on clothes, quickly packed a day bag, and ran down the stairs. Had we known Jamal better at that time, we would have known there was no reason to rush. Unfortunately that relationship had not yet blossomed and being good Minnesotans, we took pride in being on time.
Jardin Majorelle
The first stop was Jardin Majorelle – Yves Saint Laurent Mansion. This is a beautiful two-acre garden just northwest of the Medina (historic city center). It is well worth a stop, even if your only goal is to let the kids stretch their legs. It is a fun opportunity to learn all about the plants of the region and admire beautiful architecture. Our only recommendation is to buy tickets online ahead of time! That was not an option when we went and ended up standing in line for quite some time waiting to get in, and as you know lines and young kids rarely mix. The house also is the home to the Berber Museum. We did not enter because, just like lines, museums and kids rarely go together. That being said, it would be worth spending an hour there if you can swing it.
Koutoubia Mosque
The next stop was Koutoubia Mosque, which sits right outside of the Medina (city center) walls. We did not enter the mosque but spent some time exploring the exterior while the kids ran laps. Morocco is an extremely safe country, so while it may be hard as a parent to relax, you can. We had nothing but positive experiences with the locals. Many areas are busy though, so just make sure you stick together and don't get lost! The Mosque is a good first stop as it gives you a chance to marvel at the unique Arabic architecture before you are winding through the narrow streets of the medina!
Rock The Kasbah!
Our final stop of the day was the medina, which is the historic walled city center. This is where you'll find the old Kasbah and its maze-like streets lined with shops and markets, as well as the famed Djmaa El Fna Square. If you have not been to an Arabic city and never visited a historic Medina, this will be an experience! Just remember, yes it is busy, chaotic, and seems out of this world, but it is also safe. We all have a natural inclination to stick to what is comfortable. My recommendation is to let go a little. Wander down random streets. Take a wrong turn. Or two. Or three… Stop at random shops. I promise the locals will get you back to where you need to go. They may ask for a small tip, but such is life. It is worth it!
Djemma El Fna Square
Our first stop was Djemma El Fna square which is home to snake charmers, fortune tellers, poets, and more. It has served as a gathering place for thousands of years. Compared to the medieval days, it is a bit more touristy, but still worth a visit. You will get hassled for everything from pictures in funny hats to chances to hold a snake. Some are fun and you have to negotiate, a lot! They may ask for 300-500 dirham ($30-50 USD) for a picture with a snake. 50 dirham ($5) is plenty.
Our best advice is to just take in the atmosphere and see where it takes you. You do not have to spend a dime to be able to enjoy the wonderful chaos that surrounds you, however before Kristen knew it she had a hat on her head, a picture taken, and a couple of guys asking for money. We negotiated a fair settlement for our lack of awareness and have a hilarious picture as proof. Your best bang for your buck is a glass of fresh orange juice at one of the stands that surround the square. We will warn you though, feeding your kids too much fresh orange juice every day for a week does have some unintended consequences…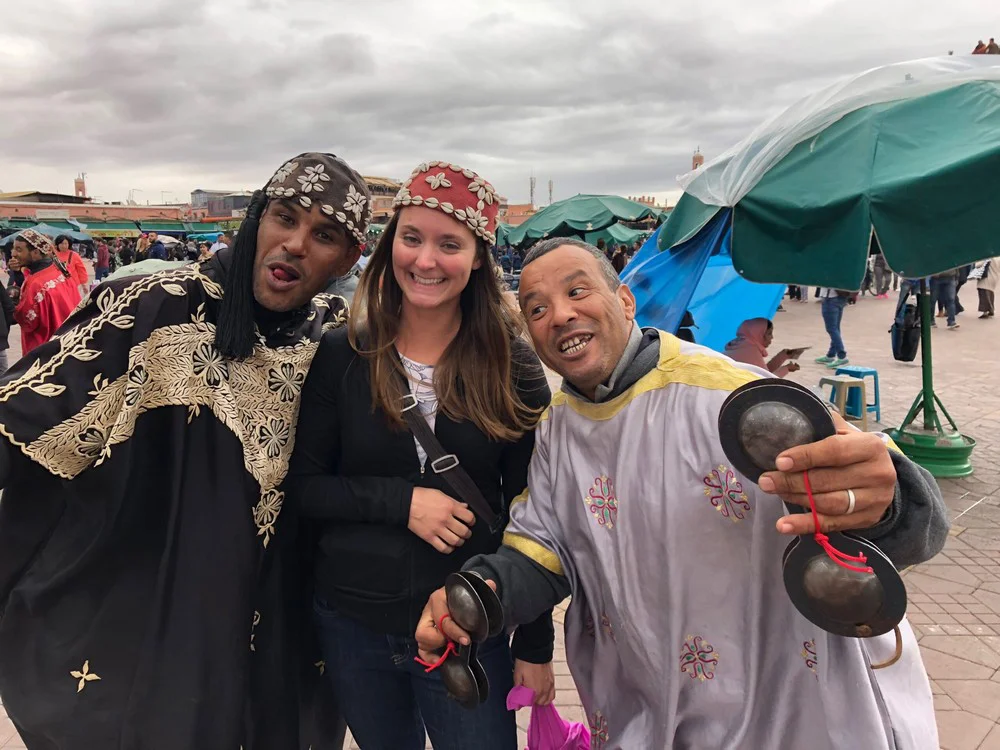 The Search for Lunch
Our next stop was to explore the maze of streets that lead from Djemma El Fna square to the heart of the Medina. We had one goal, which was to find Terrasse Des Épices. After many wrong turns, a couple of mutters swear words, and a long feeling of hopelessness, we found our spot and had our first of many Moroccan tagines. The kids had their usual, spaghetti and meatballs with fresh orange juice.
The rest of the day was spent exploring the winding streets. The diversity is amazing. We stumbled through countless markets, ranging in products from rugs and trinkets to spices and street food. We passed within inches of donkey's carrying building materials down narrow alleyways. While we aren't much for souvenirs, we did allow the kids to pick out one item. That may have been a mistake. While it kept them busy, it also ate up far more time than we had allotted! They both came home with nesting containers decorated with beads and other shiny objects. They were small, fun, and are still in use to this day four years later.
Dinner at home
Once we'd had enough we called Jamal and he picked us up at the entrance gate (another huge benefit of a driver). We went back to our Airbnb, cooked a light dinner, and called it a night. A common theme in our travels is we only tend to eat one meal out, and usually lunch. We've found that our kids don't like to sit through meals at restaurants multiple times a day, so we often stop at a grocery store upon arrival and pick up enough for quick and easy breakfasts and dinners. We often eat lunch later than usual while traveling, which makes light dinner more than sufficient.
Day 3 – Up and over the High Atlas Mountains to Ouarzazate
The Drive
The drive from Marrakech to Ourzazate takes you over the often snow-covered High Atlas Mountains. As you leave Marrakech you begin winding through beautiful foothills full of farms. The road winds past picturesque old Kasbahs and villages. The elevation peaks out at about 2,300 meters above sea level in the Tizi n'Tichka pass, which is high enough to have plenty of snow in the winter. It was such a juxtaposition to go from the hot bustling medina of Marrakech to snow covered peaks!
Argun Oil Cooperative
About two hours after leaving Marrakech we stopped at a small shop in Tamguinguante, called Argan Tichka, that specializes in Argan Oil products. Everyone has seen Argan Oil mentioned in beauty products, most notably Moroccanoil, which is sold throughout the US. What most people do not realize is that this oil is produced from the kernal of a tree that is endemic to southwestern Morocco. It is a traditional Moroccan product and it makes a great souvenir or gift.
The best part about our stop was that there were local women demonstrating the oil extraction process. They soon had out kids sitting next to them turning the traditional stone grinders and magically turning nuts into oil! While our kids did not understand a word of Arabic or French, these ladies were able to make them feel comfortable and had them working in no time! I wish I had that power in just getting them to clean their room!
This is a fun, yet brief, stop if you are traveling with young ones. There is also a restaurant if you wanted to make it your lunch stop as well.
Aït Benhaddou
Our first real stop was the Ksar of Aït Benhaddou, which is a UNESCO World Heritage site (and was featured in Game of Thrones)! It is an old city build of earthen buildings all tucked together. Historically it was an important stopping point for caravans before they attempted to cross the Atlas Mountains via the Tizi n'Tichka pass. We had a wonderful Tagine lunch at a restaurant by the entrance and then spent a couple hours walking through the city streets. It hosts both Muslim and Jewish cemeteries, various shops, and a fortification at the top. This is where Jamal's true colors began to shine as can be seen by the pictures of him carry little Betty through the town.
Atlas Film Studios
We are not big movie buffs, so this stop was largely lost on us. Atlas Film Studios is like Universal Film Studios, but much smaller. Gladiator, Black Hawk Down, some episodes of Game of Thrones, and many others were filmed there. You can take a tour around to view the movie sets. While not somewhere we would chose on our own, it was pretty interesting and provided the kids a chance to run around and play after a long day in the car.
Ouarzazate – The Door To the Desert
We finally arrived at our destination, Ouarzazate, The Door to the Desert. The town is primarily inhabited by the local Berber people and is the last stop before 9.2 million square kilometers of desert! We made a quick stop at the Kasbah of Taourirt for some pictures and then arrived at our hotel, Les Jardins de Ouarzazate. I'll be honest, the hotel is a bit dated. We were only staying for one night and are not very picky when it comes to accommodations. If you do happen to prefer higher-end establishments, it might be worth looking around.
We had our first of many positive experiences with the locals. The kids were hungry, and our hotel did not serve dinner until well past bedtime, so we wandered the streets in search of food. We stopped at the first restaurant we saw, La Rose Des Sables (also a B&B). The kids ordered some spaghetti with meatballs and orange juice. When we were done the owner realized the kids still had some food leftover and asked if we would like to take it home. We said of course and he soon came back with his plates and silverware wrapped up in cellophane! We said we couldn't possible take his plates with us. He said not to worry as he knew we'd be back. It was a level of trust I don't think I could have mustered with complete strangers.
Dinner without Kids!
We put the kids to bed and went out for a peaceful dinner at the hotel. Our room was right by the restaurant so we could keep an eye on our sleeping travelers. It was one of the few times we were able to have a peaceful dinner to ourselves!
One of our cheapskate tricks is we would set up a Facetime Audio call between two phones, with our end on mute. We'd leave one in the room with them so we could hear what was going on in there without having to travel with a baby monitor. All it takes is decent wifi! It is an invaluable trick and will free up many evenings.
Day 4 – Ouarzazate to Merzouga and the Sahara
Ouarzazate was really just a stopping point on our longer journey to the Sahara. That being said, we did have enough time for a unique shopping experience. Like most travelers to Morocco, we had our hearts set on a rug but had absolutely no idea what we were doing. Jamal took us a local rug and antique dealer and we got to work while he and the kids had a tea party.
Our Rug-buying Disaster
We found a couple of rugs and negotiated like crazy people. Unfortunately, our competition was far more experienced. We ended up with a couple of beautiful rugs that we probably paid way to much for. Like true tourists, we were talked into a rug made from cactus fibers, or so we thought. It was a beautiful deep blue rug that we thought would be perfect. Turns out there is no such thing and it was made of rayon or some other synthetic material. It was a mainstay of our house until it faded so badly that it had to be tossed.
We have made future rug purchases via Revival Rugs and we would recommend you do the same. You'll have a far more enjoyable experience and will be sure you are getting what you are paying for! Their design team will even help you pick out one free of charge.
Moroccan Kindness
We saw many instances of Moroccan kindness and hospitality during out trip, but one sticks out in my mind. The drive from Ouarzazate to Merzouga is about six hour long and takes you through a long stretch of arid, rocky desert. Partway through our drive we came across some kids herding sheep out in the middle of nowhere. We pulled over to stretch our legs and Jamal proceeded to empty out the car for the young herders. He made sure they had food, plenty of water, and some chewing gum to help get them from point A to point B. We saw gestures like this from Jamal almost daily throughout our trip and they always made our hearts melt. They also created wonderful opportunities to teach our children about the virtue of generosity.
Valley of the Dates
Our first stop on the drive from Ourzazate to Merzouga was the town of Tinghir, which nestles up to the Draa Valley (Valley of the Dates). The Draa river winds through the desert from Ouarzazate to the ocean. It is known for the many varieties of dates that are grown in its fertile and well irrigated soil. It is a bustling town that clearly is an economic mainstay in the region. We stopped at a small restaurant overlooking the river and had a wonderful meal of, your guessed it, Tagine for the adults and spaghetti and meatballs for the kids.
Todgha Gorge
A short drive from Tinghir is Todgha Gorge, which is a narrow river valley surrounded by sheer 500 ft limestone cliffs. In the dry season, during which we traveled, you can walk to your hearts content. There is a small trickle of a stream flowing through, but nothing more. During the rainy season the gorge is being carved by a torrent of water, so visiting is not always possible. For the more adventurous there are opportunities for rock climbing in the gorge with groups like Climb Morocco. In a prior life we would have jumped at this opportunity, however the kids were just too young on this trip.
Havel La Chance
Our trip was originally planned by Blue Men of Morocco, which owns Haven La Chance Desert Hotel in Merzouga. It was the true off season so the hotel was nearly empty (which is by far our favorite way to travel). We were put up in a nice room and had a wonderful home-cooked dinner.
Day 5 – Exploring the Desert
This was our first true desert experience (apart from Kristen's time growing up int he UAE and Saudi Arabia as a young child). There are few experiences as an adult that are so different that they take your breath away. For me, exploring the desert around Merzouga was one of them.
Haven La Chance backs right up to the desert. All we had to do was exit our room, walk across the pool area and gardens, and exit through the back. As far as the eye could see were beautiful rolling sand dunes. We spent a good hour or two just walking the ridges and letting the kids jump into the abyss. I think we are still finding sand in their nooks and crannies four year later…
Exploring on Foot
Long before breakfast was even served we were out in the sand. Try putting yourself in to the eyes of a two year old. It must feel like an endless sandbox. After a couple of minutes we realized that shoes were not working, so we took them off and set them aside. We hiked along the ridges and took turns jumping off of the sand and sliding down the hills.
It wasn't long before we could hear the hum of four wheelers and 4x4s. They were taking their first tour groups out for a day of adventure. As we looked over we saw they were following out footprints in our direction… and were heading straight for our shoes! Before we could react our shoes were pressed neatly into the sand by one of the 4x4s. The driver saw them at the last second, but it was too late. He stopped to apologize profusely, however we assured him it was our fault for leaving a pile of shoes in the middle of the desert. The shoes were fine apart from the fine bits of sand stuck to every nook and cranny!
A Traditional Gnaoua Music Experience
The next stop was to the village of Khamlia to listen to traditional Gnaoua music. Gnaoua is a genre of music that originates in the Sub-saharan African population that was brought to Morocco as slaves. The music is a mixture of drum beats, stringed instruments, and krakebs, which we understand originally was played by the banging of the chains and shackles world by the slaves. This was a unique and intimate cultural experience that I would recommend adding to every itinerary, especially if you are bringing young kids. While it is loud, it is a fun and engaging way for kids to experience a unique culture. There are also opportunities to dance and sing and the kids can join in playing the krakebs.
Glamping in the Desert
Our next stop was what we had all been waiting for, camping (really glamping) in the desert! A 4×4 driver from Sahara Stars Desert Camp picked us up from our hotel and took us to our camels. On the way, he asked the kids if they wanted to go ride in the sand dunes. They were a little hesitant at first, but eventually agreed. Deep down I was really hoping they would say yes as I couldn't wait to get out there. They reluctantly agreed and it turned out to be a stomach turning trip, with lots of semi-happy screaming coming from the back, but it was well worth it. I made a mental note to add this to a future itinerary with slightly older kids.
Camel Ride through the Erg Chebbi
We rode tandem due to the age of our kids, which was better. We were closer to them and able to see the different expressions on their faces. The ride took well about an hour and a half and occurred right before sundown which presented beautiful vistas and colors. To our surprise the kids didn't complain once. I think the experience was so unique that time flew by with ease.
The only part of the experience that brought anything but positive experiences was getting on and off the camels. Camels drop down onto all four knees to sit. Once you are in the saddle, they first stand up with their back legs, and then their front. In that period between the back legs straightening and the front, you feel like you are going to roll right down the top of the camel! It is a short period of time but for the kids felt like forever. I do have to admit my inner thighs were sore after that ride. Those with even an ounce of hip flexibility should fare much better!
Sahara Stars Desert Camp
The camel ride took us right to our first ever glamping experience with Sahara Stars Desert Camp. We are avid backcountry campers and must admit that this was pretty nice! We had a desert tent all to ourselves with a private bathroom. The common space between all of the tents was lined with rugs and added a wonderful ambiance to the evening. They had a band playing traditional Moroccan music around a bonfire and served a wonderful meal.
Everyone's highlight though was snowboarding down the sand dunes. We work up early, largely because kids do not provide other options, and hiked out away from camp to explore. We brought one of the camp's snowboards and took turns sliding down the hills. By the end we were covered in sand from head to toe!
One thing I cannot forget to mention are the stars. We have been fortunate in our lives to be able to explore parts of the world that have limited exposure to light pollution. That being said, I have never in my life seen stars so bright! The Milky Way was dancing above us in all of her glory. It is a sight I will never forget and has made me wonder what we could do in the cities and towns around the world to expose the wonders of the night sky. I think everyone could benefit from being able to look up at night and see the expanses of the solar system in its truest form.
Day 6 – Merzouga to Fez
Today was a long day of driving. The trip from Merzouga to Fez takes about 7 hours, which is challenging for young kids. We had plenty of activities along and their iPads as a backup. Luckily for us the scenery was foreign and the rest stops engaging enough that the iPads never left their cases.
Fossiles d'Erfoud
We made a quick stop at the Fossiles d'Erfoud. We were amazed at the geological diversity that Morocco offers and the wide array of fossils that can be found. This was a great place to buy some Christmas gifts for grandmas and grandpas. The highlight was that the shopkeeper/tour guide gave the kids each some geodes to keep and a hammer so they could break them open. It always amazes me how powerful little gestures and small moments can be for everyone involved.
If you are not on a budget, they make some amazing larger items that they will ship for "free" anywhere in the world. We were in awe of the tables, sinks, etc. made out of beautiful rock that was full of fossils. We unfortunately had a pretty strict budget, and at that point were living overseas in a rental property, otherwise we may have made a rather large purchase!
Erfoud and the World's Best Dates
Our next stop was one of the many benefits of hiring a driver. He too had his favorite places to go having made this trip countless times. He asked if we would mind if he stopped to pick up something for his family. It turns out he wanted some dates according to him, a very non-descript shop in Erfoud was the best place in Morocco, and possibly the world, to buy them!
There was no way we could deny him this simple pleasure after all he had done for us, so we all stopped and bought boxes and boxes of dates. We also ran next door for our kids' favorite batbout (Moroccan pita bread) fresh out of the oven.
Needless to say we all ate well on the rest of our drive to Fez!
Cèdre Gouraud Forest and the Barbary Macaques
This may of been one of the most enjoyable quick stops on our trip to Fez. Cèdre Gouraud is a cedar forest on the outskirts of Ifrane. Most notably it is home to a quite tame population of Barbary Macaques. Passersby stop on the side of the road for a chance at an up-close encounter with these cute little furballs. There are vendors selling peanuts to help entice them to pay attention to you. Now I have no idea what this means from an animal rights standpoint and I know people may feel differently. All I know is that they are cute and we did as the locals do. We did not however touch or entice them to come that close. Wild animals are wild animals and this was a chance to teach out kids restraint, kindness, and respect for our animal friends.
Ifrane – the Swiss Village on the Hill
Ifrane is one of many juxtapositions in Morocco. After five days of deserts and medieval Arabic cities comes a proper Swiss chalet town in the middle Atlas mountains! It is known for its alpine-style architect and nearby ski slopes and was established way back in the 16th century.
We stopped for a bite to eat and were lucky enough to stumble into a mini town festival. People were out and about throughout the town and we even ran into Mickey and Minnie Mouse! Unfortunately our kids were afraid to get too close for a picture. I'm not sure if our kids were afraid of Mickey and Minnie themselves or the fact that their French and Arabic languages did not sound like the shows we'd watched at home.
We had a nice bite to eat and a walk around the city center and local parks. We also bought some popcorn from a street vendor which made for a much needed car ride snack.
Day 7 – Explore the Kasbah of Fez
Day seven was all about Fez. The original plan was to go out with a walking guide, but given the kids' age and our preference for wandering aimlessly through unfamiliar cities, we opted to go on our own. We like to be able to take random turns down interesting streets and do not like the pressure that comes with a guide. As the kids get older, we'll likely change our tune as that expert viewpoint may help us to visit (or understand) places we wouldn't get to on our own.
We stayed at Hotel Menzeh Zalagh which is well located but dated. I wouldn't necessarily recommend it if you are looking for high-end accommodations, but at about $50/night it fit the bill for what we needed. If price and location are what you are after, it is worth a stay. If not, best look elsewhere!
Jewish Mellah of Fez
Our first stop was the Jewish Mellah (Quarter) of Fez. The area dates back to the mid-15th century and while it no longer is home to a significant Jewish population, it still bears the name and is the home of numerous monuments and landmarks from the Jewish community's historical heritage in the city.
We started our visit at the Royal Palace (Dar al-Makhzen). Unfortunately we had agreed to let our four year old take the pictures. As you can see the framing is not quite right. After the Royal Palace we spent an hour or so exploring the narrow streets and alleyways in that general area. Again, we opted to go without a tour guide largely due to our preferred travel style, however guides are available (and cheap) if you wanted a more hands on, or educational, experience.
Tamegroute Pottery Cooperative
Fez is famous for many things, one of which are local clay ceramics often sporting the traditional Fassi blue and white color scheme. They can be found in every Souk in the city, however if shopping in the souks makes you uncomfortable, or tired, or frustrated, or… you get our point, you can just head on down to Tamegroute Pottery Cooperative. Not only can you shop to your heart's desire, but you can also see the artisans in action at every stage of production. We were amazed to find out that historically the kilns were powered by burning olive pits! It sounds like the process of heating up, and cooling down, the kilns takes a long time, but what a great way to use the entire plant!
Bab Bou Jeloud and the Medina
We entered the Medina at Bab Bou Jeloud (the Blue Door) and were left to fend for ourselves. As we mentioned we love wandering aimlessly through old cities and this was just another excuse to sit back and enjoy the show. We found a lunch spot right inside of the gate with a rooftop balcony where we could eat in peace and watch the hustle and bustle below.
With full bellies we wandered deeper. We followed unnamed alleyways and curious little streets until we came to what we later learned was Souk al-Attarine and the Kissaria Markets. This souk is a mind boggling maze of streets and alleyways. Although Al Attarine was traditionally a spice market, today it hosts an assortment of vendors selling almost everything. We wandered here by accident, however I'd recommend you are more deliberate about visiting. It is everything that I find exciting and enchanting about historic Arabic cities like Fez.
Chourara Tannery
No visit to Fez is complete without a visit to one of three large tanneries where animal hides are tanned using traditional methods. We were very fortunate that our driver, Jamal, agreed to let the kids sleep in the car during this visit as the smell can be overwhelming (I think it has to do with cow urine and pigeon feces being part of the tanning mixture…)! When you walk in they will give you a sprig of mint to hold up to your nose. I'm not sure if the mint smell actually helps or if holding your hand to your nose for a half hour just takes your mind off the pain.
That being said, it is well worth the visit. Seeing the stone vats tucked into the middle of the city is fascinating. It is rumored that this tannery dates back to the founding of Fez in the 9th century, and looking around it I tend to believe it. You can walk up to an observation point to see the stone vats in their entirety. If you pay attention you will also see some of the household pigeon roosts that produce some of the raw ingredients.
The whole process is done largely as it has been since medieval times and, without the help of machines or synthetic chemicals. Don't skip this stop and if you can and leave the young kids behind if possible. That being said, if yours are always stuffed up like ours seem to be, they may not smell a thing!
Mystery Viewpoint
After our time at the tannery, we were taken to a viewpoint just outside of the city center. Unfortunately we have no idea what it is called or where it was at. It was a chance to see the city in its entirety and the tanneries. Even more unique were the donkeys leaving the tannery, unaccompanied, and carrying the wet hides up to the hillside where additional workers would unload them and lay them out to dry. This view is one I will never forget!
Day 8 – Back to Malta
It is always sad coming to the end of a trip, especially one as special as this. There was one surprise left for us that nearly swept us off of our feet. As we were unloading the car, Jamal reached into his pocket and pulled out two small genie lamps. He gave each kid a big hug and although he is unlikely to admit it, I'm pretty sure I saw a familiar shimmer in his eyes. I'm sure he could say the same about me.
He told them that the lamps were so they could never forget his wonderful country. What he didn't know was that they did not need the lamps to remember. They had him and a full eight days of fun and adventure in one of the most kid friendly and hospitable countries we have ever visited. To this day we still text and trade pictures. As friends and family have followed in our footsteps, we are always quick to send a small token of appreciation back and forth.
Our friends and family always ask why we choose a life of travel. They assume it is for the breathtaking landscapes, unique cuisine, or just the feeling of always being on vacation. Those are all great, but the real reason is the people. We have close friends all over the world with which we have build very special connections. These connections came from shared experiences and a love of the unfamiliar. The people are the reason we are constantly perusing Google Flights. They are the reason we spend countless hours writing blog posts we never know if anyone will read. People are the reason we travel and we hope they become the reason you do to!
Check Out More Kid-friendly Travel Articles
Patillas, Puerto Rico – A weeklong, family friendly itinerary for Puerto Rico
Valencia, Spain – How to relax and live like a local with kids!
Iceland – Iceland is expensive. Learn how we visited with kids and a budget!
Best Baby Carrier for Air Travel – Looking to take your kiddo on their first flight? Then check out this guide!
We'd Love to Hear From You!
Let us know what you think in the comments, on Instagram, or on Facebook!