General Information
Hog Creek Entry Point (#36) is in the Tofte District of the Boundary Waters Canoe Area Wilderness (BWCA or BWCAW) at the southernmost edge of the wilderness. It offers access to shorter trips on Perent Lake, however options for longer trips are limited. It is a great starting point for beginners or a good option for more advanced canoers looking for a quick shoulder season (Fall/Spring) trip.
| | |
| --- | --- |
| Permits | Four entry permits granted per calendar day (May 1st – September 30th). |
| Access | 15-rod portage from parking area to Hog Creek. Located on Forest Service Roads. |
| GPS Coordinates | Latitude 47.81038 Longitude: -91.08641 |
| Closest Ranger Station | Tofte Ranger Station, 7355 MN-61 Tofte, MN 55615, 218-663-8060 |
| Closest Outfitters | Sawtooth Outfitters (Tofte) and Sawbill Canoe Outfitters (Sawbill Lake) |
| Facilities | Small Parking Lot (approx. 20 cars); Vault Toilet; Maps and signage; Clearly identified portage; no formal campsites |
| Maps | Fisher F-5; McKenzie #20 |
Permit Pickup Options:
There are several options for BWCA permit pickup in the Tofte district. Remember, you will need to choose your permit pickup location when reserving your permit, so make sure you double check hours, availability, etc. prior to finalizing your permits at www.recreation.gov. If you do need to change your permit pickup location, you can call the Tofte Ranger Station and often they are able to help.
Permits can only be picked up on your entry date or ONE DAY Prior. Only the permit holder or alternate permit holder specified at the time of reservation can pick up the permit and a photo ID is required. You must pick up your permit at the issue station specified on that permit (i.e. that you chose online).
Also make sure you show up at least a half hour before our permit issuance location closes. You do not want to arrive to find them closed or unable to help!
Our Preferred Issuing Station
Our preferred issuing station for Entry point #36 (Hog Creek) is the Duluth Pack store in downtown Duluth. We often arrive late on Friday evenings on our way up from the Twin Cities and use our own gear (i.e. we do not use an outfitter). We like to be on the water by dawn the following morning so prefer to pick up our permit the night before. Duluth Pack is closer to the Twin Cities and is open until 9PM on Fridays, which guarantees that we can get there in time, stock up on any missing items, pick out some fun freeze dried deserts for the kids, and grab a bite to eat in Duluth if needed.
Other Permit Pickup Options
Frost River is also a good option (and an arguably better location by Bent Paddle Brewery ?), but is only open until 6PM. Unfortunately, we can rarely make it to Duluth by 6PM.
Sawtooth Outfitters is right by the turnoff from Hwy 61 to County Road 2 and is a good option if you are outfitting your trip. Unfortunately they close too early for us.
Sawbill Canoe Outfitters is open late and has camping options. They are located at Entry Point #38, which is a short drive from Hog Creek. If you are looking for reservable camping they are your best bet (and another great option for quick weekend trips)!
Tofte Ranger Station is great if you have questions for the rangers, however the hours are limited.
* PLEASE double check hours prior to arrival! These were up to date as of September 2022 but can change.
How To Get to Hog Creek Entry Point (#36):
Take Highway 61 northeast from Duluth to the town of Tofte (approximately 83 miles).
Cook Country Road 2 to Perent Lake Road
Take a left onto Cook County Road 2 (Sawbill Trail), which goes north and inland from Lake Superior. After a couple of miles this paved road turns to gravel. You will pass the Temperance Lake Campground on your left 12 miles outside of Tofte. Continue another five miles past the campground until you get to the intersection that says the end of Cook Country Road 2.
Veer slightly left and follow the new road (Some maps still say Cty Road 2, some Sawbill Road) for about a mile. When you come to the intersection with Sawbill Road, veer left again onto Cook County Road 3/Perent Lake Road.
You will continue on Perent Lake Road for another 9 miles. This road is a bit rougher but does not require a 4×4. Take a right onto Kawishiwi Lake Road (Forest Route 354).
Perent Lake Road to Kawishiwi Lake Road
Continue down Kawishiwi Lake Road for about two miles until you see a sign for Hog Creek Entry Point (#36). Turn left and you have arrived!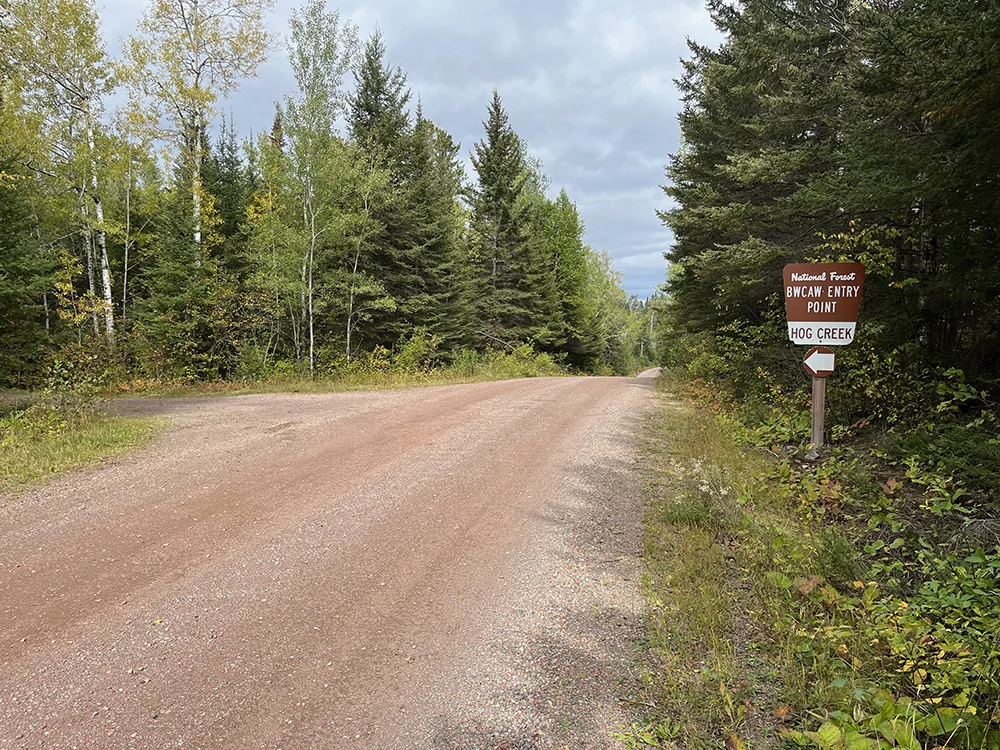 You can continue up this road another two miles to the Kawishiwi Lake Campground and Entry Point #37 if you wanted to try your luck at the five proper campsites on that lake.
Road Conditions and Google Maps
In our experience the roads are in decent shape and do not require a 4×4. They can become potholed after heavy rains and you can run into downed trees if you are coming after a storm. More importantly, watch for turtles! Each year we go in June and feel like we're playing frogger trying to avoid them as they nest in the gravel! Another positive is that the road signage has improved significantly over the years. Follow these instructions and I promise you will not get lost, unlike us on our first trip!
We also recommend downloading the section of map on Google Maps directly to your phone. This way you can continue to use Google Maps once you leave the cellphone coverage area (which occurs shortly after you leave Tofte!
Last Stops for Food, Drinks, & Supplies:
Tofte is a small town with a limited yet sufficient options for food, drink, and lodging.
Holiday Gas Station – We always fill up with gas before we head onto the forest roads. We also pickup donuts (Sign says worlds best ?) and iced coffee for the next morning so we can wake up, fill up, and hit the water with as little unpacking as possible!
Tofte General Store – Right at the corner of Hwy 61 and County Road 2 is a small grocery store with almost anything you could need. It is great for people like me that are prone to forgetting things.
Coho Café & Bakery – Great option for real food before or after your trip! Did someone say mimosas?
AmericInn – Great place to stay if you need to end your trip early (i.e. you have young kids and the weather is predicted to be severe).
Parking:
There is a small parking lot for about 20 cars at the Hog Creek Entry Point (#36). You can also park alongside the forest service road. Just make sure you pull over far enough to give larger vehicles room to pass.
Camping:
Hog Creek Entry Point (#36) does not have dedicated camping spots. You can try your luck up the road at the Kawishiwi Lake Rustic Campsites (5 in total) or you can find a flat spot and just pitch a tent in the parking lot (our preferred option) or at any of the small pull offs in the Superior National Forest.
Formal campsites are available at Temperance River Campground (first come first serve), Toohey Lake Rustic Campground, Fourmile Lake Rustic Campground, Windy Lake Rustic Campground, or at Sawbill Canoe Outfitters. Of the six mentioned above, only Temperance River Campground is directly on your way to the entry point. The rest involved turn offs on other forest roads.
Hog Creek Entry Point (#36) Trip/Route Options:
Route Options from Hog Creek Entry Point are limited, especially if you are looking for a longer trip. That being said, there are a couple of great options for 3-4 day adventures.
Option 1: Perent Lake
Most groups opt for a quick in/out trip to Perent Lake. This lake is relatively large with plenty of campsites and good fishing. The trip starts with a short portage (15 rods) form the parking lot to Hog Creek. From there you paddle down the beautiful and winding Hog Creek until you get to a 10 rod portage around set of rapids. Before you know it, and after pulling over three beaver dams, you will be on Perent Lake and can choose from one of nineteen campsites, many of which are 4 and 5 star sites.
Option 2: Lake Isabella
This trip can be done as either an in/out trip via Hog Creek Entry Point or as a one-way trip starting at Hog Creek (Entry Point #36) and ending at Isabella Lake (Entry Point #35). Many local outfitters will arrange a car shuttle or pickup to get you from one entry point to the other.
Once you paddle across Perent Lake (see above for trip from Hog Creek to Perent Lake) you will enter the Perent River. This a long and winding stretch of river with about 12 short portages ranging from 22 to 57 rods. You will get a bit of a break on Boga Lake, which has two campsites and then have an easy paddle and short portage into Isabella Lake. Isabella has 13 campsites and is also a great fishing lake.
Depending on your goals, experience, and energy levels, this can be anything from a weekend trip to a weeklong trip with camp stops on both Perent Lake and Isabella Lake.
If going one way, we recommend leaving your car at your exit point so you can pack up and leave on your own time vs. waiting for an outfitter.
Option 3: One way to Little Gabbro Lake (Entry Point #33)
If you are looking for a longer and more strenuous trip, you can extend past Isabella and work your way over to Little Gabbro Lake (Entry Point #33). As the crow flies this is about 27 miles. As the canoe paddles much longer and takes you from Isabella Lake to the Isabella River, Rice Lake, Bald Eagle Lake, Gabbro Lake, and finally Little Gabbro Lake. You can take out at entry point #33 (or backtrack to any of the entry points below). We'd recommend you leave your car at your final entry point and have the outfitter bring you to Hog Creek Entry Point. That way you can pack up and leave at your convenience without waiting for your pickup.
You will pass Entry Points #34, #75, #84, and #33. This can be a great trip in the off season but might be pretty busy from late June through August.
Fishing:
| | |
| --- | --- |
| Lake Name | Known Sport Fish Species |
| Perent Lake | Walleye, Northern Pike |
| Isabella Lake | Walleye, Northern Pike, Black Crappie, Sunfish |
| Rice Lake | Walleye, Northern Pike |
| Bald Eagle Lake | Walleye, Northern Pike, Black Crappie, Sunfish |
| Gabbro Lake | Walleye, Northern Pike, Black Crappie, Sunfish |
| Little Gabbro Lake | Walleye, Northern Pike |
Many lakes now have small Smallmouth Bass populations and Perch are also found in most lakes, but rarely targeted.
If you are looking for a more detailed guide to fishing in Boundary Waters Canoe Area Wilderness, purchase a copy of Michael Furtman's The New Boundary Waters and Quetico Fishing Guide. It is a must have for anyone fishing or attempting to fish in the BWCA.
Family Trips via Hog Creek Entry Point (#36):
Below are links to trips we have taken from Hog Creek Entry Point. We will continue to update as we continue to explore!