Looking for an epic adventure-packed family vacation? Then Norway and the Lofoten Islands is your spot! Our trip to Norway covered days 16 through 24 of an epic road/rail/air trip from Seville, Spain in the south of Europe through Norway and the Lofoten Islands to our final destination of Iceland. We had been living in Malta for five years and decided we needed one last life-changing adventure before settling into life back in Minnesota.
Getting to Norway
We took an overnight ferry with DFDS from our prior stop in Copenhagen, Denmark to Oslo, Norway. We'll touch on that experience in our still yet to be written blog post highlighting our Danish pit stop.
While the ferry's port of arrival was Oslo, our first true stop in Norway was Bergen, another 300 miles west of Oslo! The rest of our family-friendly trip to Norway would take us up to the Lofoten Islands and then back over to Oslo.
Day 1 – Europe's Most Scenic (and Kid-Friendly) Railway
We took the high-speed train from Oslo to Bergen, which takes approximately 7 hours. It is arguably the most scenic railway in Europe and is its highest, topping out at 1,222 meters above sea level. The ride offers fantastic views ranging from the lowlands of Oslo to the forests and lakes of the midlands before climbing up the mountains closer to Bergen. It also provides beautiful views of Norway's famous fjords, waterfalls, and coastal rivers.
The train operates year-round with multiple trains per day. It takes you through an astonishing 180 tunnels with stops in 22 small towns along the way. The BEST part is there is a kids car (make sure to book Family Coach Class) equipped with a play area with a small playground, books, a TV, and fold-down diaper changing stations.
The kid's car was a lifesaver with a 2 and 4 year old and allowed the adults to thoroughly enjoy the ride and views.
Days 2-4 – Bergen, Trolls, and Playgrounds
We stayed in Bergen for three nights, which was the perfect amount of time and opted for an Airbnb. The property was very reasonably priced at around $200 per night and was VERY unique (in a good way)! It is a timber framed building built in the 1850s owned by a wonderful Superhost named Henny. She also runs a tattoo/piercing studio next door. The decor was very unique and our kids loved it. The best part was a combination of the gracious host and the fact that we were a couple of blocks from the best parts of Bergen. You can find that property here.
Our train arrived in Bergen around dinner time, so we found our Airbnb, had a quick PB&J dinner, and hit the hay.
Day 2 – Bergen Fish Market and the Ferris Wheel
Our first day in Bergen started with a stroll around town. We always like to get a lay of the land before commiting ourselves to any formal activities. Apart from Bergen's pure beauty, we were happy to see a number of playgrounds and parks within walking distance. We also noticed a ferris wheel and what looked like a carnival setup at the end of the wharf, which we tucked into our back pocket as a negotiating chip for later.
Bergen Fish Market
Our first real stop was the famous Bergen Fish Market. This is one of Norway's most visited outdoor markets and has been in operation since the 1200s! Has it change since then? Of course. It is far more touristy and probably a lot more upscale and expensive. It is still worth a stop.
The kids loved wandering the stalls and looking at all of the unique sea creatures on offer. One that stood out were very dark chunks of meat that we learned were Minke Whale. Commercial whaling all but wiped out global whale populations and has been banned internationally for quite some time. That being said, certain countries with a strong cultural tie to whale consumption (Norway, Japan, and Iceland come to mind) have exemptions for limited harvests. In Norway it is only legal to hunt the Minke whale, which has not been on the endangered species list.
We weren't quite sure how we felt about eating whale, but decided to buy one meal to share. There is a saying in our house that we try everything once, so we put that to good use. We all found it tasty, but one serving was not enough. We ended up with some fish and chips for the kids the ubiquitous open-faced shrimp sandwich for the adults.
Alcohol and a Budget
I also ordered a beer, which was a huge mistake. If you ever thought a no-alcohol cleanse would be good for you, do it while traveling in Scandinavia! My very low-alcohol beer (3.2%) cost over $15 per bottle! Needless to say it was the only beer I had on this part of the trip. I do think my body was thankful after a five years of sun and wine in our Mediterranean paradise!
Ferris Wheel and the Carnival
The kids took a quick nap at our Airbnb and then headed down the street to the Ferris Wheel we had seen from a distance. One of our favorite parts of traveling is finding unique opportunities to mingle with the locals and fairs, carnivals, etc. are often perfect places to do so.
I have no idea if this ferris wheel and the rides below it are a year-round attraction or not. What I do know is it was a ton of fun! The crowd was definitely skewed towards Norwegian families. The views from the Ferris Wheel were spectacular but, as we learned later, paled in comparison to the views from Mount Floyen. We gave the kids a small budget for a couple of additional rides (which doesn't go ver far in Norway!) and enjoyed our time.
The fair was right in front of Bergenhus Fortress, which is one of Norways oldest military installations. Its ramparts are surrounded with wide-open fields of grass, which was perfect for two kids with boundless energy. We played until dinnertime approached and went back to eat and sleep.
Day 3 – Fløibanen Funicular and Reindeer Hotdogs
We spent day three at the top of Mount Fløyen via the Fløibanen Funicular. I'd say this is a must do if you are in Bergen with kids. Mount Fløyen is covered in hiking trails, however we were more attracted to the Troll Forest! There is a large playground right in front of Fløistuen Café which is a perfect first stop. The cafe serves wonderful fresh-baked goods and… wait for it… ice cream!
Troll Forest and Lake Skomakerdiket
Next up is the Troll Forest and its obstacle course. Our kids were in heaven. There are so many playgrounds and obstacles for all ages. Some are HUGE and takes a little courage on behalf of the parent let the kids be kids. We bumped into the famous Fløyenguttene mountain goats on one of the trails and had a nice stop at Lake Skomakerdiket. I've heard you can rent a canoe for free in the Summer, however I think we were just a month too early.
All in all this was a great way to spend the day. The adults were able to walk peacefully through the forest and enjoy beautiful panoramic views of the city and fjords. The kids did what they do best. Run and jump and play. A lot. We finished off with some ice cream, which ended up melting all over Betty's clothes, and then made our way back down for a late lunch/early dinner surprise.
Reindeer Hot Dogs and More Playgrounds
As mentioned before, we love trying new things. We had heard about reindeer hot dogs and decided we couldn't pass them up. Trekroneran is a small hot dog shop (looks kind of like the old school Dairy Queens in the US) serving quality hot dogs and toppings. They have everything from cheese dogs to bratwurst, wild game to reindeer. I'd recommend the latter, but that's just me. It was a hit with the entire family and was only a couple of blocks form our Airbnb. Needless to say it was not the last time we visited!
After dinner we hit up a couple of local playgrounds. Bergen was full of them and we love having opportunities for the kids to run around and meet new friends. Wherever you are visiting, take a look at Google Maps for public parks and playgrounds. Keep a mental map of the key ones and you will always have somewhere to escape to if behavior starts to deteriorate. Plus, those random walks through unfamiliar neighborhoods are sure to uncover some gems.
Day 4 – Rest, Play, and off to the Lofoten Islands
Today was what we call a rest and recovery day, which is short for no plan. Kids love structure, but sometimes it is good to have a day without a goal. Our next stop on our family trip to Norway was the Lofoten Islands and we knew we'd need well rested kids!
Our day was spent revisiting some favorite spots in Bergen. We found some new playgrounds, wandered through the Bryggen souvenir shops, and had lunch at the waterfront. It was our last meal and we all had our eyes on something different. Kristen had another reindeer hotdog, I had my favorite shrimp sandwich, and the kids somehow convinced us that McDonalds Chicken Nuggets were an acceptable choice. We can't all be strong all of the time…
Lofoten Islands – The Most Picturesque Place on Earth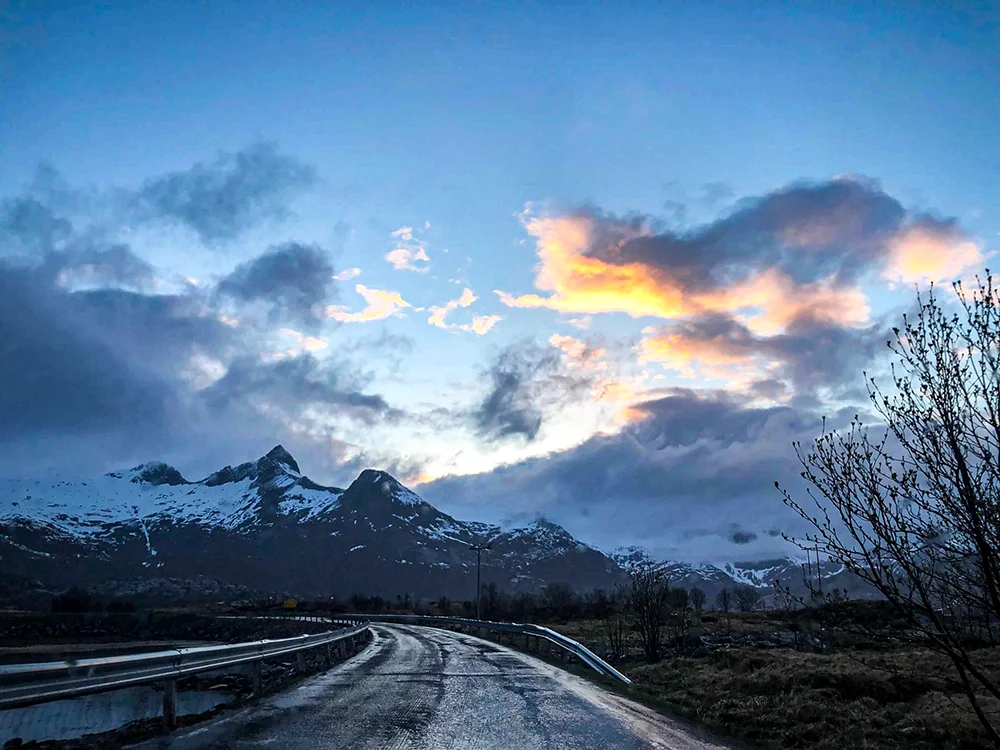 Although Norway's Lofoten Islands are isolated and well above the Arctic Circle, they are still family friendly. We took a puddle jumper with Wideroe Airlines from Bergen to Solvær, with a short stop and plane change in Bodo. It is always fun flying in smaller planes after spending so much time on large jets. Kids love them as well.
You can tell you are far away from civilization when your rental car company, Rent A Car Lofoten, texts you that your keys are under the floor mat. As always, we booked via Rentalcars.com. We were pretty surprised by this text, however it all made sense when we landed in Bodo. Apart from a flight we took ages ago to the cayes in Belize, this may have been the smallest airport we've ever used!
Mamma Moose and 24 Hour Sunlight
On our drive we had to slow down so a momma moose and her calves could cross the road. We live just at the edge of moose country in Minnesota, and are in the heart of their habitat during our Boundary Waters Canoe Area Wilderness trips. We never see them. It was so exciting to see them up close and in such a picturesque setting. Betty had long since fallen asleep but Henrik was awake and able to enjoy the sight. The entire drive is about 2 hours from Solvær to our destination in Hamnøy.
Speaking of awake, did you know that 24 hour sunlight and new surrounding wreak havoc on a child's sleep patterns? Henrik was wide eyed and bouncing off the walls for our entire drive, which was from 11PM to 1AM! Luckily our cabin had blackout curtains, so eventually we were to get him some rest.
Day 5 – Our Cabin, Beachcombing, and Hiking
Now is as good of a time as ever to talk about our lodging. A family trip to Norway's Lofoten Islands would not be complete without a unique lodging experience. We stayed in a refurbished cabin in the old fishing village of Hamnøy. This village has specialized in cod fishing and traditional fish drying for thousands of years and is covered in small red huts which traditionally supported the fishing industry. The Eliassen family has restored many of these cabins and created a unique lodging experience called Eliassen Rorbuer. The cabins are awesome and the location could not be more picturesque or ideally located.
Traditional Cod Drying Racks
We were fortunate to arrive at the end of the cod fishing season. Cod was drying in the traditional way on thousands of wooden racks, including in our. little fishing village! Seeing them was a once in a lifetime experience not seen during the busy season. This is where luck and the willingness to visit destinations in the off season can really pay off!
Beachcombing in the Arctic
After exploring our cabin and its surrounding area, we stopped in a nearby town for some groceries before hading off on our first adventure. Our plan was simple… we'd drive until something caught our eye. Another benefit of off-season travel is that so it felt like we had the place to ourselves.
After about a half hour we came to a bay with a large beach that was surrounded by cod drying racks. Kids love sand and we love to walk, so we decided to make this mystery beach our destination. It was well worth it! The beach was covered in seashells. Somehow the kids' rain boots were not enough to keep them dry. We left soaked. For whatever reason kids don't realize they are cold until it is too late. All of a sudden there were tears and we were running back up to the car to dry out and warm up. We later learned our oldest waded out into the water until it poured in over his boots. He wasn't cold then so didn't think anything of it…
Hiking at the End of the Road
After a quick lunch at our cabin we drove to the end of E10 (the only thoroughfare on the islands) to the very end. The scenic village of Å is the last village on the road. There is a nice parking lot and a ton of great hikes. Our hike took us over a moss covered open expanse with amazing views. We learned that Å is Lofoten's best preserved fishing village and that there was a traditional wood-fired bakery in the town. We made a mental note to add it to tomorrow's list. If your family loves to hike, then Norway's Lofoten Islands are for you!
Day 5 – Seagull Eggs, a Traditional Bakery, and Arctic Paddleboarding
Seagull Eggs
We had a special surprise for breakfast. When we stopped for groceries (which included the best salmon we've ever had…) we saw a unique delicacy for sale: seagull eggs. We thought what the heck and grabbed two of them. We have our rule to try everything once, so we soft boiled them Nordic-style. And they were disgusting! They had a distinct taste of the sea, which is not something we generally associate with eggs. Everyone was on the same page except Henrik who for some reason loved them. We couldn't believe it!
Traditional Norwegian Bakery
After breakfast we headed back to the end of the E10 to Å. Good luck struck again! It was the first day the bakery was open for the season. They had been heating up the oven for days and were ready to produce their first baked goods. Good luck struck again! It was the first day the bakery was open for the season. They had been heating up the oven for days and were ready to produce their first baked goods.
The bakery had one small table inside. We ordered a couple of goodies and a man approached us as we waited. He then told us he was a local reporter and was writing an article on the opening of the bakery and we were their first customers. He asked if he could take a picture for the paper. We obliged and gave a little color on who we were and why we were in Lofoten. We never found a hard copy of the paper, however we did get a digical copy of the article.
Grandpa Ronnie, my paternal (and VERY Norwegian) Grandfather, would have been so proud. Not only were we about to visit his good friends in Oslo, but we were also in the Norwegian press. The baked goods were amazing too!
Paddleboarding above the Arctic Circle
After nap we started looking for an afternoon adventure. There was a paddleboarding shop just down the road from us. While most places were closed during the off-season, this place seemed open. We drove over to Schibevaag Adventure and found out that it was run by Kari Schibevaag, a world champion kite surfer!
This ended up being one of those last minute decisions that absolutely made the trip and still qualifies as one of the coolest experiences we've ever had with kids. We all had to put on full wetsuits, with hoods, mittens, and boots. After that Kari pointed to the bay in front of our cabin and said to enjoy! We were a little nervous at first, but it didn't take long for us to get our feet under us. The views were stunning and our kids looked so dang cute in their outfits.
About halfway through our trip we ran into a 14 year-old boy out in a small fishing boat fishing for cod. He welcomed us over and explained, the best he could, what he was fishing for and how he did it. He caught a couple of beautiful fish while we were hanging out on our paddle boards. It was a bit of a shock for the kids though as he used a gaff hook to grab the fish and pull them into his little boat. The blood may have pushed them over the edge.
We had one thing left to do once we returned the boards to the shop… swim! We jumped into the water (with our wetsuits on) and had our first, and only, swim above the arctic circle. The water was crystal clear and it is amazing how much plant and animal life thrives in those frigid waters.
All in all this is a must do if you and your family are heading to Norway's Lofoten Islands, regardless of age (Betty was 2). Lofoten is a trip of a lifetime and this just pushed it over the top.
Day 6 – Off to Oslo
While our family's time in the Lofoten Islands was coming to an end, we still had one more stop in Norway. We enjoyed a lazy morning and then made the two hour ride back to Solvær to catch our Wideroe Airlines flight back to Oslo. We arrived in Oslo and took the train to our Airbnb. As a reminder, we left our home in Malta permanently prior to starting this big adventure. We were getting quite tired of lugging full suitcases and both carseats through the streets and trains of Europe!
Day 7 – Syttende Mai (Constitution Day) with Friends
A little history
Decades ago my Norwegian Grandpa put an ad in the local Norwegian press looking for his long-lost family. A wonderful couple answered and, in addition to helping him piece together his family tree, became life-long friends. I had met them once when I was probably 8 or 10 years old in the US. We reached out to them advising them of our trip and not thinking much of it. They encouraged us to spend May 17th in Olso and offered to be our personal tour guides.
I know I've mentioned this in prior blog posts, but human connections really are the true reason for travel. Those connections make everything feel more real and meaningful. This connection made May 17, 2018 a very special day for us.
Syttende Mai Festivities
We were awake at 4:30am because unfortunately our Airbnb apartment did not come with shades. We were excited to get started so had an early breakfast and hit the town. Everyone was dressed in either traditional clothes or suits. We looked extremely out of place in our jeans and travel clothes.
Our first stop was the Royal Palace where we stood with a ton of people to see the King and Queen. We then watched a children's parade come through where school groups marched. We searched high and low for small Norwegian flags for the kids to wave. It took forever but eventually we were eventually successful.
We stumbled across a gluten free bakery tent run by Baker Hansen and Kristen dug in. It is rare that she can enjoy baked goods and this place was amazing. Some locals came up to us (again, we clearly stood out) and we had a nice chat about the festivities, history of Constitution Day, and how lucky we were to come during such an occasion. Then we went back to our apartment for a quick rest.
Lunch with Family Friends at Froggner Park
We walked to Froggner Park to meet my grandpa's friends. They greeted us with balloons, flags (we could have saved about two hours had we known this!), pins, and toys for the kids. We had a nice lunch in the park with my favorite shrimp sandwich and the kids were treated to double ice cream!
After lunch we explored Froggner Park, which is Oslo's largest park with its largest playground! It truly is a huge park and worth a stop if visiting Oslo, especially if the kids need to run around. We saw the famous angry boy statue and the kids were able to run to their hearts' content.
It is always sad saying goodbye, but we thanked our friends for such a wonderful treat and parted ways.
Day 8 – Off to Iceland
Our flight to Iceland was in the afternoon which left us with a little time to kill. We decided to spend it at Olso Reptile Park which like a little zoo focused on snakes and other reptiles. The kids were able to hold a few giant snakes and were in awe at all of the unique creatures.
We stocked up on gluten free goods at Baker Hansen and took the train to the airport. The only downside here is we had to carry our bags and carseats the entire morning!
While we were sad to leave Norway, we were excited to move on to Iceland, which was the last stop on our epic European adventure!