Puerto Rico is an amazing place to visit with kids and the southern region around Patillas is a hidden gem just waiting to be discovered.
We had not been outside of the continental United States since we left Malta in 2019, and for us, that seemed like an eternity. When we moved back to the States we assumed we'd continue to travel like before, albeit to closer locations like Caribbean, Central America, and South America. Then COVID hit and we spent 2019 through the end of 2022 exploring our home state of Minnesota along with a couple of trips to the American Southwest.
How We Chose Southern Puerto Rico for our Trip with Kids
COVID had eased and we decided it was time to venture out. A common first step in our travel planning process is to look for cheap direct flights. Our logic is to keep things as simple as possible. There are a ton of destinations with direct flights from Minneapolis. Why deal which the complications of layovers if you don't have to? Flexibility is our strength and we put it to good use.
After some research on Google Flights we settled on Puerto Rico. It checked the box of being a new location with direct flights. It also had the additional benefit of being one of our friends' home (you can check him out at YotaTrails).
We booked our tickets to travel over MLK weekend and set to work planning an unforgettable trip to a hidden corner of Puerto Rico that few tourists experience. Farm stays are by far our favorite place to stay with kids and we found what looked great for kids in southern Puerto Rico. We prefer the less travelled parts of a country and Patillas seemed to fit the bill.
Our Worst Travel Mistake Yet!
Two days before we left I received an email from Delta telling me to "Enjoy my flight to MSP!". To where? I thought I was going to San Juan. Turns out I booked our flights backwards! In all of our travels I had never booked a flight wrong. To make matters worse, I booked it with Delta Skymiles and did not have enough miles to cover the changes AND they will not let you pay with cash. To make matters even worse, this was the day the FAA had a computer glitch that grounded all flights in the US. Getting a hold of Delta was hopeless and I resigned myself to the fact that these flights were going to cost a lot more than planned.
Sometimes you hit the ball out of the park, and well… sometimes you just don't. The good thing was it was just a flight. While it was embarrassing, it was easily fixable. I rebooked flights, admitted my mistake to my wife, and moved on.
Day 1 – Arrival in Patillas at Finca Corsica
We left Minneapolis on an 8AM flight that arrived in San Juan at around 3PM. For us, the 4.5 hour flight seemed really short after years of trans-Atlantic flights. The flight was uneventful and our kids settled into their iPads and books.
Arrival in San Juan and Hertz Presidents Circle
We arrived in San Juan and headed over to Hertz to pick up our rental car. We are Hertz Presidents Circle members which is a welcome perk of our Capital One Venture X credit card (well worth the cost) which allows us to skip the lines and walk right to our car. It is one of those benefits that seems trivial, but is so nice after a long flight.
Finca Corsica – Our Home Away From Home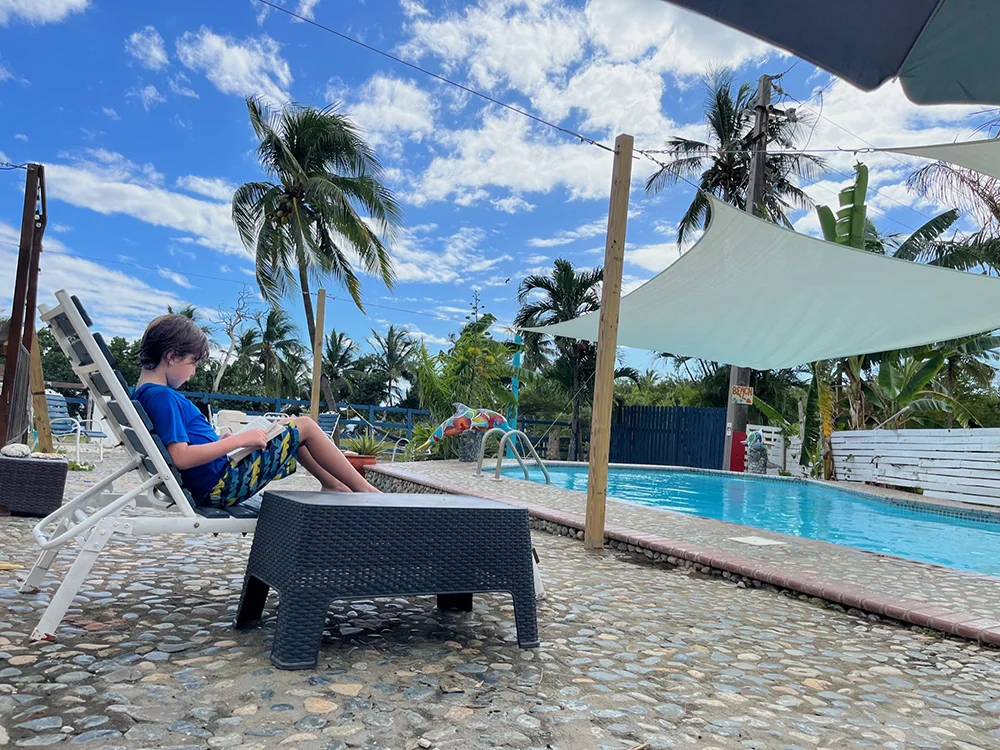 We stayed with our kids in the southern part of Puerto Rico at a Airbnb/Farm Stay outside of the town of Patillas. As mentioned above, we generally are not resort-goers so avoided the area in the north around San Juan. We love small, unique lodgings and especially farm stays. Farm stays are very popular in southern Europe (Agriturismo in Italy, Casas Rurales in Spain) and were our favorite places to stay during our time there. There just is no better way to travel with kids than to stay on a farm!
After some research we landed on Finca Corsica, which is on an old sugarcane plantation we found on Airbnb. It has several different lodging options with plenty of shared spaces like outdoor picnic areas, lounge areas, an outdoor kitchen, a pool, and tons of room to roam.
We stayed in Casa Coral, which faces the pool (which we had to ourselves) and has plenty of room for a family. You are free to pick any fruit growing on the farm (star fruit was in season during our visit). There are cows, chickens (including one that laid her eggs on an outdoor couch during our stay), a puppy, and birds and frogs galore. It is truly a magical place to stay with young kids. We booked our stay via the Delta Airlines link for Airbnb which earns you additional Delta Skymiles! You can find Casa Coral, the unit we stayed in, here on Airbnb.
Our Semi-private Beach
The best part is that you have about a mile of beach all to yourself. We walked this stretch of beach daily and rarely saw another soul. Keep in mind, it is a part sand/part rock beach. It is not the perfectly manicured white-sand beach you see in the brochures but rather a real beach with rolling waves coming in that lulled us to sleep each night. It is another reason why the southern part of Puerto Rico ended up being the perfect spot for our young kids.
Being a real beach, it also suffers from the unfortunate side effect of humanity's addiction to plastic: trash. It by no means ruins the experience, however we do want to point it out in case you are used to going to resorts where employees go out each morning with four wheelers and rake all the seaweed and other stuff that the waves wash in each day.
We arrived at around 5:30PM and let the kids have a quick swim and walk on the beach before we went into town for dinner. We generally tend to cook a lot of our meals while traveling, however had not yet stopped at a grocery store and didn't have much for other options!
Dinner at Restaurante el Marullo
Our first meal out was at Restaurante El Marullo, which is a five minute drive away. It was not on our Airbnb Host's recommendation list, however it was close, open, and sounded easy after a day of travel. We arrived a bit early and were the first diners. We were early enough that the manager wasn't there and were served by her assistant, which led to our first language barrier challenges.
The food was great, however they seemed to be out of everything, including the Mofongo that I was dying to try. Turns out the latest hurricane destroyed the country's entire plantain crop. Many of the local dishes are made with plantain as the main ingredient, so of course they were difficult to make in the current environment. I switched over to Chuleta Kan Kan, which is a local pork chop delicacy. Henrik ate a hamburger (go figure), Betty chicken wings (alitos fritos), and Kristen fish tacos. The kids wanted ice cream and my horrible broken Spanish and bad accent resulted in a GIANT bowl of ice cream covered in chocolate and, for a lack of a better term, some sort of breaded and deep fried cheesecake.
The kids were happy, which means we were happy and which meant bedtime was a breeze.
Day 2 – Beach, Beach, and more Beach
We started the day off right. The kids and I "snuck out" for a morning walk on the beach and let mom sleep in.
Beaches and plastic do not mix well
The kids noticed some debris from the hurricane and asked why nobody had cleaned it up yet. I told them the local population couldn't possibly clean each section of beach, especially after multiple hurricanes. Without hesitation the kids ran back to our house and and returned with garbage bag ready to help.
We made a pact to fill one bag each morning. Each spring when the snow melts at the lake by our house we see a lot of trash and bring garbage bags on our walks. We also used to do the same while living in Malta.
There is no better way to come to terms with our unhealthy relationship with plastic than to visit an island country, especially where the resort isn't combing the beach each morning. As a global family we have a problem and its time to get to work, even while on vacation. The truth is it took us five minutes each morning. Just five and in the end we hauled out six large bags of plastic.
Reserva Natural Punta del Viento
After breakfast we walked the same beach west to Reserva Natural Punta del Viento. Outside of one local family we had the entire beach AND nature reserve to ourselves! This also probably explains why there is almost no information online about this hidden gem. We spent the morning hunting for seashells, watching the other family fish (and spearfish), swimming, building sand castles, and relaxing. We found a plastic baseball in the hurricane debris and a piece of bamboo that we could use for a bat. Puerto Rico is the land of baseball and Henrik just couldn't help himself. It felt very similar to "Pinecone Baseball" that we play on our camping trips.
Playa Villa Pesquera
After lunch we went down the road (really just on the other side of the nature reserve) to Playa Villa Pesquera in Patillas. This is a true local hangout. It was packed with families out for their Sunday get together and reminded us a lot of our time in Malta. The food/drink stalls were packed and everyone was having a great time. We spent the afternoon enjoying a real beach experience as the only foreigners in a sea of local families.
Dinner at El Rancho de Papi
I am not a huge fan of wearing a wet swimsuit all day, so we made the five minute drive back to Finca Corsica to change. Dinner would be at El Rancho de Papi, which came recommended by our Airbnb host for great seafood.
I learned here that my Spanish had passed the stage of rusty to being almost nonexistant. Between the loud music and my poor communication skills, we were struggling to order. Luckily another patron saw our sorry situation and came over to translate. After a lot of laughs, some small talk and the help of google translate, we successfully ordered fried red snapper, locally called chillo frito (when they say frito they mean pan fried, not deep fried) with tostones (plantain chips), mixed-seafood mofongo (plantain-based), pastelillos de pizza (local version of empanadas) and chicken wings for the kids. The food was amazing and we all fell in love with chillo frito. You'll see this meal come up on a daily basis from here on out. The other benefit was that all but the pastelillos were gluten-free! We were beginning to think southern Puerto Rico had the best food, even for kids!
COTTON CANDY!
There was the craziest ice cream truck we've ever seen driving up and down the tiny road in front of the restaurant. Unfortunately, by the time we went looking for it the driver had gone home for the night. Thankfully the kids learned a valuable lesson in flexibility. As we walked back to the car, kids head hung low, we came across a family selling candy. We ended up with a bag full of gummy animals and the best cotton candy we'd ever had. A total success and way better than the ice cream!
Day 3 – Secret Beach and Hidden Waterfalls
The morning started with a walk on our beach and our daily cleanup project. Then we drove to Reserva Natural Ines Maria Mendoza in Yabucoa which was 30 minutes east of Finca Corsica. This particular nature reserve was recommended by a friend of ours who grew up in the nearest town, Yabucoa. The last bit of the road to the reserve is rough and the parking is tight. Like everywhere in Puerto Rico, just pull as far over to the side of the road to park. As long as a passing car can squeak through you're good. The hike takes about 10 minutes and then you are at an amazing cove with a beautiful beach.
Learning to Snorkel
We brought a bunch of old snorkel stuff from home and taught the kids to snorkel. Betty wasn't as comfortable breathing with the snorkel, so she would just swim next to us or on our backs and put her face in the water when she wanted to look around. Henrik was a natural and would have disappeared completely had we not told him he had to stay with us. We saw a ton of fish and the aftereffects of the hurricanes. Much of the coral had died of or been covered with sand as a result of years of abnormal weather. The really interesting part was finding patches where the coral was beginning to come back. It was amazing seeing natures ability to heal itself after such pain. We saw a ton of lizards and butterflies around the beach as well.
Late Lunch at La Rumba Bar & Restaurant
Our friend recommended one of his favorite stops, La Rumba Bar & Restaurant, which is just down the road in Yabucoa. The menu was in English which was a nice surprise. The staff was amazing and the kids had smoothies (frappé) with chicken tenders and a hamburger. Kristen had her favorite fried red snapper (chillo frito) with mofongo balls (boletos de mofongo) and I had what may have been the best octopus I have ever had… I told the waitress I wanted octopus and she asked how I'd like it cooked. I resorted to my normal "what is your favorite" (qué prefiere) response and she did not disappoint! Whenever you aren't certain, just ask waitress what she prefers. You'll get an honest answer and it will be good!
Las Cascadas Tres Chorros
We then drove back to Patillas and into the mountains to Los Tres Chorros, which is a set of rapids and waterfalls outside of Patillas. This is definitely a local haunt and not nearly as busy as many of the other waterfalls in Puerto Rico. We were the only ones there, which again made us happy we chose southern Puerto Rico for our trip with kids.
Park on the side of the road near Tres Chorros Sports Bar and walk down the little road and over the bridge. To the left is a small foot trail with will lead you to Los Tres Chorros. The hike only takes a minute or two. The kids loved hopping around on the rocks and splashing in the water. We convinced them to strip down to their undies (didn't think to bring swimsuits) and we swam in the big pool and received a nice back massage from one of the waterfalls. It has a perfect ledge in front to sit on to enjoy the experience. Originally we had planned to also walk up river to Cascada el Survivor, but it was getting late and we were hungry. We decided to head home with the hope that we could come back again before our trip was over.
Day 4 – When Travel Plans Fail
Our original plan was to take a catamaran to Icacos Island. Unfortunately a "cold" front moved in and with it came some wind. All boat tours were cancelled for the week and there was a rip-tide warning for much of the north. Thankfully we were staying on the south side of the island which was quite sheltered. And I said cold front because while for the locals it is cold, 75-80 was hot enough for us!
Snorkeling at Villa Pesquera
The kids had their hearts set on snorkeling so we went back to Playa Villa Pesquera. It couldn't have been more different compared to Sunday. It was dead quiet! No reggaetón, no parties, no families out for a picnic. We had the place to ourselves!
The weather did decrease visibility significantly. There was just too much sediment in the water to be able to see far. Luckily for us the kids were new to snorkeling so expectations were low. We found a submerged boat engine that nature had turned into an artificial reef. In only 3 feet of water we could see lion fish, lobsters, corals, and a bunch of smaller tropical fish. From the shore we saw tons of what we coined needle fish. Who knows the real name but they are long with pointy noses and almost translucent skin. Right when we were leaving we also saw a young sea ray swim right up to shore!
We also hiked down to the mangroves that made up Reserva Natural Punta del Viento, the nature park between our Airbnb and this beach. We ran into an older gentleman that was fishing with a small net for baitfish that he said he'd then go out and fish to feed his family. His English was spotty and my Spanish is almost gone, but we were able to get by.
Agua Salada Bar and Restaurant
We had lunch at Agua Salada Bar and Restaurant, which is right when you come into Patillas from the west. It had been on our list of places to try all week and always seemed busy. On a Tuesday it also happened to be the only restaurant nearby that was open! If you are traveling in the southern part of Puerto Rico, especially with hungry kids, just keep an eye on opening times and days on Google Maps. Many restaurants are only open Thursday through Sunday.
The manager grew up in the continental US and spoke perfect English and the menu was in English! We chatted a ton and learned a lot about the area, including that a pod of dolphins had come through the area that morning. We must have had our heads down snorkeling as we didn't see a thing! One thing we noticed at night was that all of the street lights were black or red. He explained that this was in order not to confuse the sea turtles that nest on the beaches in the area.
Our meal was very similar to prior meals on our trip. We all clearly had found our favorites! I had mofongo with shrimp and octopus. The kids and Kristen split a giant friend red snapper (chillo frito). Both are gluten-free and delicious. I had a Medalla beer, Kristen a Pina Colada, and the kids had smoothies (Frappés), one Nutella and one strawberry. We also stopped at the affiliated corner store to stock up on some essentials. The man working the counter was super nice and had a blast practicing his English with the kids. We also made a metal note of what looked like an awesome snorkeling spot just below the restaurant. We learned it can be accessed from Playa los Hoteles next door.
Cascada el Survivor
After lunch we decided to go back to Los Tres Chorros and hike up to Cascada el Survivor. It was beautiful and we had it largely to ourselves outside. You follow the same path to get there as you do for Los Tres Chorros, except instead of turning left onto a footpath you turn right, cross another small bridge, and to another short footpath. You can swim across the first pool to a rope swing perched on top of a large rock. It was too intense for the kids but fun for adults. Please Be Careful! There is only a narrow expanse of water that is safe for landing and this safe zone is surrounded by shallow rocks. Walk around and familiarize yourself with the underwater landscape before you use the rope swing.
Then we swam through the narrow section up to the main falls. There is a small ledge you can jump from to the left of the falls. Again, just feel around with your feet so you know where to land. This is a really fun stop and is really off the beaten path. Unlike many of the falls you read about in the north, and especially in El Yunque, this is as non-touristy as they come. It will feel like more of an adventure and why we think southern Puerto Rico is a hidden gem, especially for families and kids.
After the falls we went back, swam in the pool, and enjoyed our nightly sunset from the beach. We felt like our morning trash cleanup routine was definitely starting to pay off!
Day 5 – Surf and Chill
One of our Top 10 tips for traveling with kids is to involved them in the planning, which we do for every trip. When we asked the kids what their number one activity would be on an island in the Caribbean, they both said surfing. So we searched around and found Cano with Flow Surf Lessons who is based not far from Finca Corsica. We reached out to Cano in advance and had everything all set for us. The day and time were set but location was dependent on the weather and wave conditions.
Surf Lessons
We settled on Playa Pozuelo in Limones, Guayama about 40 minutes west of our farm. We arrived bright and early at 9AM to see Cano already set up on the beach. The wave conditions were perfect for two youngsters learning to surf and felt quite fortunate. Anyone hoping to learn to surf in the north and west would be out of luck given the sea conditions.
Cano was amazing and had both kids up and surfing in no time. On Betty's first wave, she started falling and just stepped over onto Henrik's board mid-surf and continued the ride on his board. It was hilarious and amazing that she was able to keep her head that calm! Both kids caught wave after wave for a whole hour.
Cano's Other Guiding Services
A quick note on Cano. While we only used him for surf lessons, he also provides countless tours around the southeast portion of the island, including many of the places detailed in our itinerary. If you and your kids are looking to see this amazing part of southern Puerto Rico but doing it alone seems overwhelming, shoot him an email. I'm sure he'll be able to put something together that hits all of our high points and more without many of the trials and tribulations that come with a DIY approach! He's also a super cool guy.
Back to the Pool
The kids were exhausted so we decided not to snorkel and went back to Finca Corsica. The truth is we had spent very little time there. For the first four days we generally ate breakfast and left. We often didn't come back until after dark. It was great having time to enjoy the farm and the pool. We probably ended up getting too much sun, but it was well worth it.
El Tenedor de Mario
After our lounge day we headed into town to try El Tenedor de Mario. It was another recommendation from our Airbnb host and we were not disappointed. The kids had hamburgers (go figure), but really good ones! They were clearly made from scratch. Kristen and I split a surf and turf composed of lobster with butter sauce (langostina con salsa de mantequilla), and skirt steak (churrasco). The kids had strawberry smoothies (frappé de fresa), Kristen had a piña colada, an I had a Medalla beer (or two). Menus are in English and the wait staff spoke excellent English. All in all a great meal and one we would go back for again.
Day 6 – Travel Day
This was our last day. Kevin at Finca Corsica was kind enough to let us check out a bit later so we could enjoy our last half day and shower before our 1.5 hour drive back to San Juan and our 4:40PM flight back to MN. He is very communicative and checked in on us a number of times via the Airbnb app to see if we needed anything.
Playa Los Hoteles and Frappé Vista al Manatí
We decided to hit up Playa los Hoteles, largely because it always seemed busy and we had scouted out some appealing spots while eating at Agua Salada Bar & Restaurant. The water clarity was still not ideal due to the weather in the north, but we saw quite a bit of activity in the rocks in front of the restaurant.
After a quick swim and snorkel we stopped at Frappé Vista al Manatí (Manatee View). We had driven by it what felt like a million times but it was always closed. It was Thursday and it was finally open! We had our last, and best, frappés of the trip and then went back to Finca Corsica. We could take turns watching the kids swim while the other showered and packed up.
The End
All in all we had an amazing time in southern Puerto Rico with out kids and would recommend it to anyone looking for a unique and real (verdadero) Puerto Rican experience. Our hope is that more people venture out of the tourist hot spots and give less well-travelled areas like this a try. If you are looking for a true sense of adventure, it's the only way! Patillas and Puerto Rico are the perfect kid-friendly destination for traveling families.
Check Out More Kid-friendly Travel Articles
Patillas, Puerto Rico – A weeklong, family friendly itinerary for Puerto Rico
Valencia, Spain – How to relax and live like a local with kids!
Iceland – Iceland is expensive. Learn how we visited with kids and a budget!
Best Baby Carrier for Air Travel – Looking to take your kiddo on their first flight? Then check out this guide!
We'd Love to Hear From You!
Let us know what you think in the comments, on Instagram, or on Facebook!