Ever thought about winter camping? Or just curious how or why people would?
Whether it is your first time or have spent countless nights in -30F weather, the Winter Camping Symposium is the place for you.
It is a weekend full of campfires, camaraderie, and a budding anticipation for when the hardy camping season begins!
We have been attending as a family since 2021 and it has turned into one of our favorite weekends of the year. But it can feel overwhelming.
Hopefully this Beginner's Guide to attending the Winter Camping Symposium will be enough to get YOU to sign up and join us next year!
What is the Winter Camping Symposium?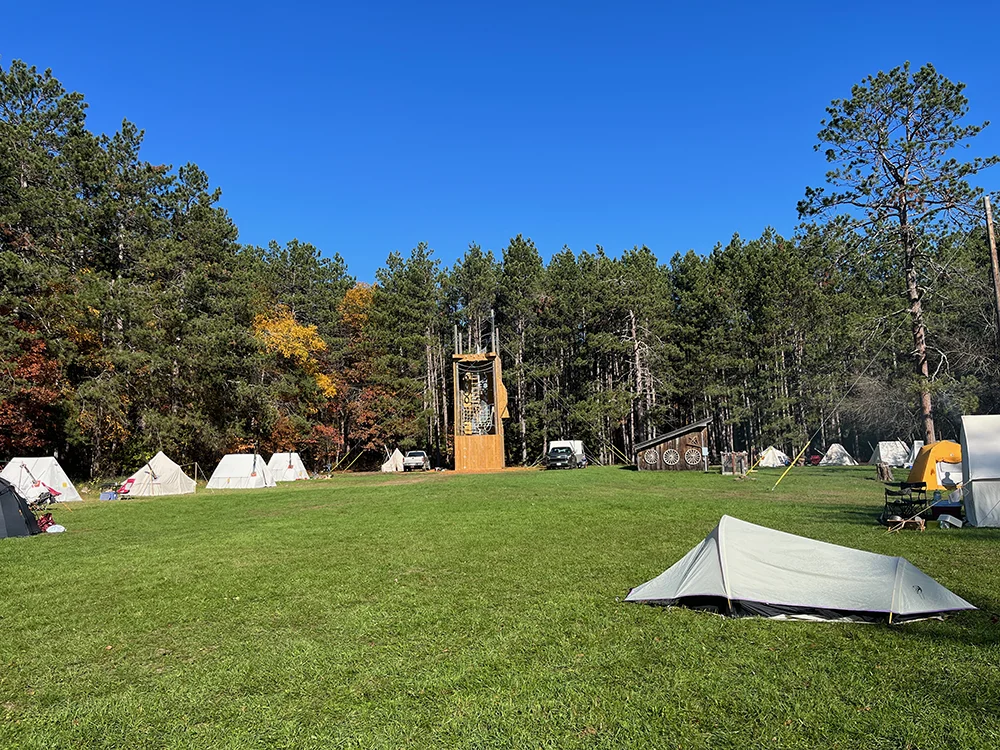 The purpose of the Winter Camping Symposium is to educate, collaborate and celebrate everything Winter! It is one of the largest gatherings of winter campers, outdoor adventurers, and explorers in the United States.
It is held for four days over M.E.A. weekend (a MN tradition when schools are closed on Thursday and Friday) in mid-October.
The Winter Camping Symposium is held at YMCA Camp Miller on Sturgeon Lake in Minnesota and is going on its 25th year! It is a fully volunteer-run event.
The weekend consists of camping, either in tents or in cabins, workshops, classes, music, dance, a gear raffle, youth program, and so much more.
Most importantly, it is a chance for friends to get together over a shared experience and an opportunity to make new friends in the process.
The event is 100% family-friendly and is open to everyone, regardless of whether you've ever camped a day in your life.
Preparing for Your First Winter Camping Symposium
OK, so you're sold and would like to join. Where do you start?
Registration
First and foremost, you need to register online for general registration ($35 for the entire event) and camping ($50) or a cabin ($50-$150).
Almost everything else at the Winter Camping Symposium is cash-only, so bring plenty!
Arrival
Second is arrival. The earliest you can arrive is 4PM on Wednesday afternoon. Althought we have not been there on a Wednesday, it seems that only a small crowd show up Wendesday night. Most people come Thursday or Friday. We usually come up Friday evening after work and set up in the dark.
In 2023, we were fortunate to get more time off of work and came up midday on Thursday. In our experience that was the best. We didn't feel rushed and had most of the day on Thursday to get settled.
When you arrive, just drive out and find a spot to camp. We like the large open area right when you come in, also called the Athletic Field. It is designated as the "quiet area" at night and is very kid-friendly. You can pull up your vehicle, unload, and then park. Then head into the registration tent to check in.
What to Pack
It really depends on whether you will be camping or staying in a cabin. Most importantly dress warm! Some years its 60F and sunny, some years 40F and rainy.
Most camper choose to bring hot tents, which are generally canvas tents with wood-burning stoves. Our first year we stayed in the cabins. Then we bought our own stove and hot tent and have been camping since.
Make sure everyone in your group has extra layers, good hats and mittens, and warm boots. Many of the classes are held outside and you don't want to be too cold to listen!
Classes and Workshops
One of our favorite parts about the Winter Camping Symposium are the classes and workshops. They are offered by experienced campers and the knowledge acquired can be put to good use immediately!
Skill-based Classes
The classes are usually an hour in length and are focused on particular skills or topics. Many are held outdoors and all are led by skilled instructors. These courses change each year, but they tend to follow key themes:
Tents and Stoves – How to pick out, set-up, and care for your cold or hot camping shelter!
Blade Safety – Everything you could ever want to know about knife/ax/saw use and safety
Winter Camping 101 – Lessons and advice on how to get started and spend that first night outside
Orienteering – Navigation, map-reading, and compass work in a winter setting
Fishing – Unique lessons on back-country ice fishing
Boundary Waters – Routes, tips, and tricks for winter camping in the famous BWCAW
Staying Warm – Lessons on proper clothing and sleep systems to stay warm even when it's freezing
Fire – How to build a fire from just about anything
Foraging – What is edible and where can you find it
All courses are are included with registration fees and do not require advanced signup. Just show up and enjoy. There is plenty of room between courses to grab a warm drink, check in on your kids (like us…), or mingle with your fellow campers.
Hands-on Workshops
The annual Winter Camping Symposium also offers hands-on workshops where you can learn how to craft your own outdoor gear.
I'll be honest. We have only attended one workshop, not because we didn't want to, but because we have two young kids running throughout camp and can't take that much time off as parents!
Some excellent options from recent events include:
Toboggan Building – Build your very own winter toboggan with NOW Outdoors
Snowshoe Lacing – Lace up your own pair of snowshows with the folks from Country Ways
Carving Class – Learn to carve just about anything with Roger Pilsner
Antler Knife – Craft your own unique knife with an antler handle with Warren Peterson
Some workshops are held during a specific time period and are a couple of hours long. Others are come-as-you-want affairs where you can come in, lace part of your snowshoes, and then take a much-needed break.
Unlike the classes, they require advanced sign up and there is an additional fee to cover materials.
Keynote Speakers at Winter Camping Symposium
One area where the Winter Camping Symposium leadership really shines is in attracting amazing explorers and adventurers as keynote speakers.
On Friday and Saturday evenings, usually at around 6:30PM, everyone meets in the main room at Mitchell Hall for Winter Camping Symposium announcements and then a keynote speaker.
Some recent superstars include:
Whether you are a complete beginner or experienced winter adventurer, it is impossible not to leave motivated for your next adventure. All the speakers hang around the campfire and mingle, so you can ask questions, get books signed, and get to know them as human beings.
Youth Program and other Kid-Friendly Activities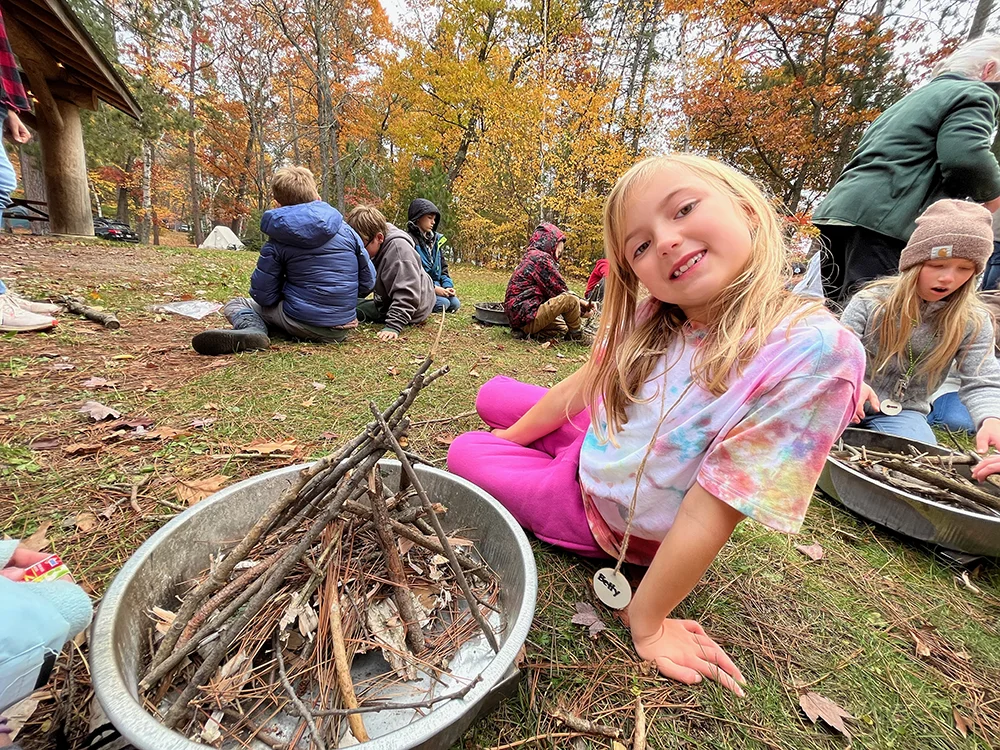 I know it is hard to believe, but many families, including ours, introduced their kids to cold weather camping at very young ages. Our kids were 4 and 6 when we first attended the Winter Camping Symposium and when we spent our first night in our hot-tent at -10F!
Starting in 2022, Sydney Tanner and Jim Nosker from Azen Lodge Outfitters began leading the Robbie Pfister Memorial Saturday Youth Program. It is amazing.
Like with the workshops, there is a nominal $30 fee for each kid. There are limited spots and registration is required in advance. It is technically only open for kids 8-14 years old, however Jim and Sydney will allow younger ones if a parent is willing to stay for the whole event.
Our youngest has been too young to go alone, so we just take turns helping out. Kristen will watch and help out all the kids while I'm at a class, and then we'll switch, and she takes a break and I help out.
Each year the course focuses on key wilderness themes, but from different angles:
Fire – Kids learned to build and maintainfires with matches and a ferro rod
Food – Kids cook their own meals over an open fire
Knife Safety – Each year the kids get a knife to bring home and learn to use it safely
Transportation/Shelter – They made toboggans one year and tarp shelters another
Hiking/Foraging – They take them out on a hike to learn about food and kindling for their fires
Sydney and Jim are excellent instructors and take a no B.S. approach to safety. While they are fun and engaging, there is zero room for foul play or unsafe actions. We feel very confident with our kids under their watch and are always amazed at how much they learned and how excited they are to come back.
For a young family like ours, the Youth Program is the true highlight. In addition to the youth program, there a tons of unstructured opportunities for kids to explore, learn, and play.
In 2023, the YMCA installed a new climbing wall and opened it up for four hours on Saturday. It was definitely a highlight!
The Winter Camping Symposium Community
It sounds cliche, but the best part of the Winter Camping Symposium is the community. In three short years we have met folks that have become life-long friends. It truly is a great group of people.
Additionally, our kids have made some lifelong freinds. Every year all of the kids get together at the basketball courts and rekindle old friendships. As a parent, it is always surprising how quickly they pickup where they left off.
So while the courses and workshops are amazing, save plenty of time for unstructured human interaction. This takes place at our tents, between courses, and around the communal campfire each evening, usually with beer supplied by the event's beer sponsor, Moose Lake Brewing Company!
Gear Vendors, Gear Swap, Giveaway, Raffle
A Winter Camping Symposium wouldn't be complete with out gear, and LOTS OF IT! The event is a great chance to meet some amazing craftsmen and women creating best in class gear.
Gear Vendors
First and foremost are the gear vendors that are set up on the main road leading into the camping areas.
The group changes from year to year, but mainstays include:
A-Metal Works/Four Dog Stoves – Arguably the best hot tent stoves on the market
Snowtrekker Tents – Top of the line canvas hot tents
Brautigam Expedition Works – Expertly crafted and incredibly lightweight titantium gear
Lester River Bushcraft – Bushcraft gear and the best wool jackets
Frost River – Waxed canvas gear handmade in Duluth, MN
Cooke Custom Sewing – The best BWCA packs and tarps on the market
Ben's Backwoods – Knives, axes, and other cool stuff
Northern Tobaggan Co – Handmade toboggans, snowshoes, etc.
Wintergreen Northern Wear – Traditional Anoraks and other outer layers
Portage North – BWCA gear of all kinds
Used Gear Swap
Secondy, there is the used gear swap held in the basement of Mitchel Main Lodge. Attendees bring their used gear and sell it on a modified silent auction format. It is an exellent spot to grab high-quality gear at incredibly low prices. Many folks then donate their proceeds back to the event.
We like to give our kids a $20 budget and let them go to town. Be forewarned though, they sometimes loose track of what they bid on and we come home with far more than budgeted…
Gear Giveaway
Many of the vendors and sponsors also donate gear for the registration giveaway. Everyone who registers is given one entry.
Then there is a big event on Saturday night and tons of swag changes hands amid plenty of cheering, hooting, and hollering.
Gear Raffle
There is also the gear raffle. Many of the sponsors donate gear and the Symposium then runs a raffle.
Tickets are for sale (cash only) and you can put your name in the various boxes in hopes of taking something home. There are usually some amazing items, including a full Snowtrekker hot tent setup, tobaggan gear, knives, axes, and more!
FAQs in Relation to Winter Camping Symposium
What is the point of winter camping?
Winter camping lets you experience nature's tranquility in a unique, snow-draped setting. It hones your survival skills and pushes your boundaries.
Do people camp in tents in the winter?
Absolutely. Many adventurers use four-season tents or heated shelters for comfort during their frosty escapades.
Where is the best place to camp in December?
The "best" spot depends on what you're after. National parks like Yosemite offer striking landscapes while spots like Florida's Everglades keep it warmer.
What is winter camping called?
Cold-weather enthusiasts refer to this exhilarating activity as "winter camping." Some also call it "snow camping" when there's heavy snowfall involved.
Conclusion
We're not lying when we say this is arguably our favorite event of the year. It has given us a new appreciation for how much fun winter can be and has introduced us to some absolutely wonderful new friends.
So even if you have no real intention on ever camping in the winter, come join us. There are tons of folks there that come for the atmosphere with no intention of embarking on an Arctic expedition.
Finally, don't hesitate to reach out to us. We'd be happy to answer any questions you might have or serve as your initial tour guide once you arrive!
Check out these Articles about Camping with Kids
Canoe Seats – Choosing the best canoe seat for your next adventure
Bear Head Lake State Park – Why we love canoe-in campsites at Bear Head Lake State Park in Minnesota
Gluten-Free Camping Meals – Our favorite gluten-free camping meals for canoe camping
Boundary Waters with Kids – The most approachable BWCAW trip for introducing kids to the wilderness
First Boundary Waters Trip – Check out the first trip with kids to the BWCAW
We'd Love to Hear From You!
Let us know what you think in the comments, on Instagram, or on Facebook!