Yes. Your kids need a youth survival kit when out in the wilderness. Whether you are camping deep in the backcountry or in your local state park, we believe basic safety and survival skills are a must, even for young kids. Much of the enjoyment that comes with true tent-camping derives from the fact that we are returning to our roots and living a life, even for a weekend, that more closely resembles what we are genetically designed to live.
Now we are not crazy bushcrafters, but we do take our kids on trips that many would call crazy. We have encouraged them to carry a youth survival kit/pack since about the time they could walk. At two years old those little packs included a snack and a stuffed animal. Now, at 6 and 8, those packs are starting to resemble our own and include gear that could be a gamechanger for them if they ever ran into trouble.
Skills before Stuff
Before we get into the specific gear we recommend, I wanted to talk briefly about gear in general. Gear does not make the adventure, YOU DO! Most gear is worthless if you do not have the skills and experience to use it. So don't go out and buy a bunch of brand new camping gear. Get the basics and spend some time getting used to it!
If you have the right skillset, you will be able to improvise with just about anything. If you do not have the right skillset, fancy gear will serve as a mental safety blanket. You'll feel really good about your situation until you are forced to use it!
Basic elements of a survival kit – youth edition
I'd like to point first point out that our children's safety on family adventures is OUR responsibility as parents. It is up to us to make sure we are ready for whatever might come our way. That being said, there are skills that kids can be taught from a very young age that will grow and blossom over time. Like with anything, more reps leads to greater proficiency!
Our kids' survial kit, gear, and skills are focused on the four key elements of survival:
Food
Water
Shelter
Fire
We believe that once kids hit the age of 8 they should have the basis tools and skills to meet each of those needs, even if only for a brief period of time.
Youth Survival Kit contents (and know how to use them safely!)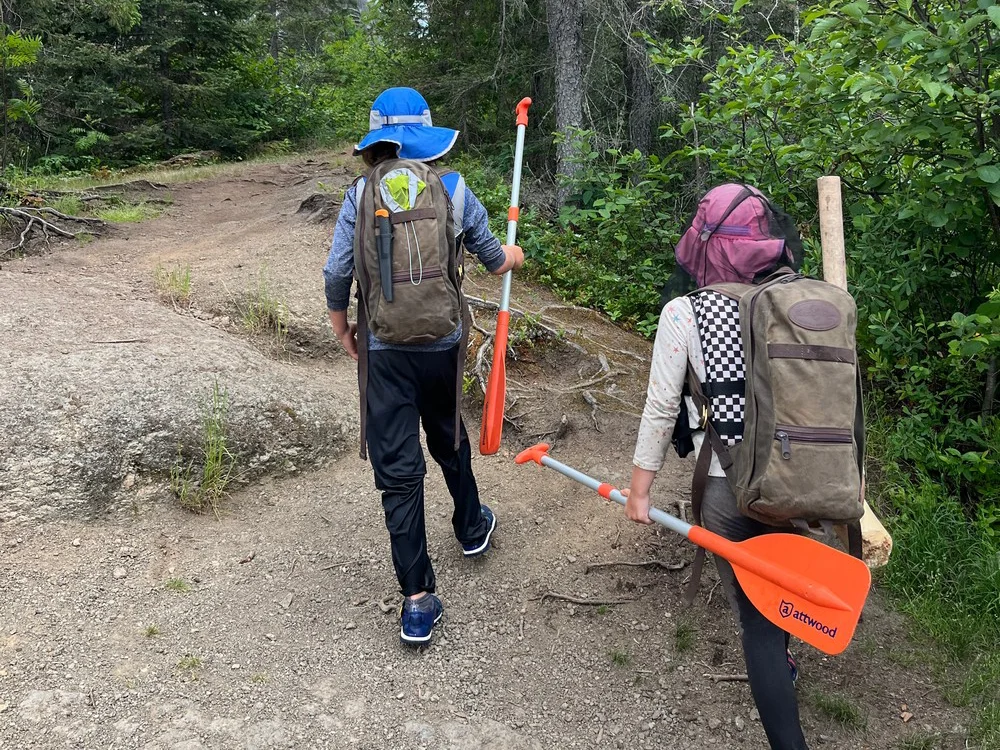 We have each kid carry a couple of items that could be useful in order to meet the four basis elements of survival.
Survival Element 1 – Food
Each kid carries a small ziplocked baggie in their survival packs that includes some hearty, and shelf-stable, snacks. Some of their favorites are Paleo Valley Beef Sticks, Nature's Bakery Fig Bars, and good old fashioned homemade GORP. The latter is great because you can make it to their liking and ensure high amounts of fats, sugars, and protein.
Our goal here is that they have an accessible snack for the trails AND, if they ever were separated from the group, they would have nourishment for a day.
Survival Element 2 – Water
Each kid carries their own small water bottle in their survival kit. We love the small 16 oz sized Nalgene Bottles. REI often has them on sale with cool kid-friendly designs. We love them because they are the only water bottles we've found that the kids haven't destroyed and that do not constantly leak!
Our goal here is that they have enough water to make it through a night if they were separated from our group.
Survival Element 3 – Shelter
Shelter is probably the most difficult of the four items, largely because kids just do not yet have the strength or dexterity to put up a proper shelter. That being said, they can improvise and learn! Our kids carry a small 6'x8′ poly tarp (like the old blue ones your parents probably used), small diameter paracord, and tent stakes they whittled out of sticks last year in their youth survival kits. We pre-cut the rope into smaller chunks to help with setup. Choose high visibility colors if available as it is much easier to find a lost kid if they are covered in bright orange!
Our kids can set up a shelter with help, but I'm not sure they are at the point where they could do it on their own. What they can do is wrap up in the tarp, ideally under a large tree, and hopefully stay warm and dry in an emergency. They also carry an emergency blanket to help with warmth.
Our goal here is that they can protect themselves from rain and wind, even if not perfectly. We've also found these tarps to be handy on some trips, including the one when I forgot to bring our family tent…
Survival Element 4 – Fire
Fire is one of the most important survival elements. Not only does it provide warmth and someplace to cook, it also provides a psychological uplift and can calm fears as darkness sets in. Add to that the fact that many animals do not like fire and it can be a lifesaver.
Our youth survival packs include couple of things that they can use to start a fire. At this stage, they both can start one in ideal conditions. We're still working on our skills starting fires in rainy or windy conditions. Their kit includes:
Ferro Rod & Striker – This is how they actually create a spark for their fires
Jute Rope – Often kindling can be wet or kids can struggle to find fine-enough fibers to catch a spark. We keep a couple of sections of jute rope in a waterproof container that they can unwind into a nice bed for their ferro rod sparks
Birch Bark – They always pick up a section of birch bark to keep in their kid as the next source of dry kindling beyond the jute rope.
Blow Pipe – We just took apart a ballpoint pen and brougt the shaft. This allows you to blow on the fire to perk it up without blowing soot allover your face! It is amazing how effective an old Bic pen housing can be in restarting a dying fire!
Knife – Each kid carries a pocket knife for safety and to help in fire starting and maintenance. We like both the Opinel No. 7 and the Morakniv Bushcraft Hi-Vis Orange. If you are looking for a good resource on knife safety, check out Morakniv's article!
All of these items, apart from the knives, are kept in a zip lock plastic bag to keep them dry.
Final thoughts and youth survival kit checklist
We are not saying your kids need to be able to survive on their own at 6 years old! What we are saying though is that teaching them basic survival skills from a young age will pay dividends later on. One way to encourage that learning is to pack each kid a survival kit and have them to carry it everywhere!
Our kits currently include the following items:
Snacks
Water
Emergency blanket
Birch bark (or other dry kindling)
Blow Pipe (ballpoint pen works great)
Stuffed animal or toys if they provide comfort
Looking for other tips for camping with kids? Sign up for our newsletter here or check out the blog posts below.
Tent Advice – What's keeping us cozy at night