Food allergies suck. Trust us, we know! 15 years ago, Kristen was diagnosed with Ulcerative Colitis, and gluten sensitivity turned out to be her biggest trigger. But living with a gluten-free diet does not have to be a jail sentence, even while camping! There are plenty of easy gluten-free camping meals at your disposal.
After years of trial and tribulation, we have the preparation of gluten-free camping meals down to a science. The meals are so tasty that the whole family eats them together, even the kids.
Our hope is you will walk away from reading this article feeling confident that you too can prepare family-friendly gluten-free meals in the great outdoors!
What Exactly does Gluten-Free mean?
Gluten is a protein found in many grains, which includes wheat, barley, rye, and triticale. There are a number of medical conditions that can lead to an inability to safely consume gluten, hence gluten-free is a diet free of gluten.
At the extreme end is Celiac Disease, which is an autoimmune disorder in which gluten triggers an immune system reaction that damages the tissues of the small intestine.
Then there are a number of medical conditions that fall on a spectrum of severity, largely Gluten Sensitivity, Gluten Ataxia, and Wheat Allergy (a specific type of food allergy).
My personal condition is Gluten Sensitivity, and my sensitivity to gluten is quite high. One small mistake and I could have weeks of recovery and anti-inflammatory medicines.
Plan Ahead as Much As Possible
We recommend doing as much prep work at home as possible with make-ahead meals. Some of the recipes below can be made on the trail or at the campground, but are much easier if made at home!
The recipes here are focused on EASY MEALS. You will not see Maple Walnut Goji Berry Granola requiring you to visit three specialty grocery stores. They are designed to be yummy, simple, easy, and kid-friendly!
25 Gluten-Free Camping Meals for the Whole Family
The following gluten-free meals are broken down first by cooking method and then by type of meal. If you are backpacking, stick to the "hot water only" backpacking meals. Car camping or camping somewhere with a good outdoor fire? The section on open-flame cooking will have your mouth watering in no time.
Our focus is on easy camping meals, so these recipes use minimal equipment and there is no chef's degree required.
Note: Some of these recipes and products are hosted on other sites, clicking on the photo or link will take you away from From Tent To Takeoff.
Backpacking "Hot-Water Only" Gluten-free Meals
Weight is often a key factor in meal preparation. This is true on our annual backcountry canoeing trips in the Boundary Waters Canoe Area Wilderness. As a result we focus our attention on dehydrated, non-perishable meals that can be prepared with a camp stove and as little equipment as possible.
Breakfast
1. Homemade Gluten-free Oatmeal
Talk about an easy breakfast! We prefer quick-oats, largely because our kids are impatient, and we want to avoid the "hangries". Bob's Red Mill Gluten Free Quick Cooking Rolled Oats and Quaker Oats Gluten Free Quick Oats are good options. The latter cooks up in seconds.
You can also mix in dried fruit, maple sugar, and cinnamon at home for a make-ahead version with a little more flavor.
2. Quaker Instant Oatmeal
Quaker Instant Oatmeal packets are our dirty little secret. We love them and so do the kids. Are they the healthiest? Probably not. Could we make them healthier on our own? Probably. But they are delicious, filling, and easy to make. This is our go-to breakfast on big backcountry trips.
The kids love them, and you can buy a 48 count variety pack for a little over $15!
3. GOOD TO-GO Oatmeal
Yes… another oatmeal. But when you are armed with a spoon and a Jetboil, beggars can't be choosers! GOOD TO-GO spices your bland old oatmeal up with quinoa, chia, hemp hearts, and a bunch of spices. It is a bit more filling and comes in at 490 calories per packet/serving!
This is one brand that you must try on your next camping trip.
4. Mountain House Breakfast Skillet
This freeze-dried meal is to die for and is certified gluten-free by GFCO. Think of it as a good old-fashioned American breakfast, but on the go. Egg, sausage, potatoes. What's not to like?
Each pack contains two services at 260 calories each. On big trips, adults eat an entire packet each. Kids split a packet. On shorter trips, or trips with less physical exertion, sharing is OK.
Lunch
Gluten-free lunches can be as easy or difficult as you'd like. We prefer easy as we are often out hiking, biking, or canoeing and rarely have full control of where and when we eat.
Here are our go-to equipment light gluten-free camping meals for lunchtime.
5. Salami and Cheese Sandwiches
Many do not know this, but most salami and cheeses do not need to be refrigerated, as both are already preserved and shelf stable. For this reason, they are our go-to backcountry lunch and snack.
We love Boar's Head Peppered Salami (whole) paired with a good aged cheddar or Parmesan (aged cheeses last the longest). We wrap them in Mission Gluten Free Original Tortilla Wraps and sometimes add some ketchup or mustard.
6. Peanut Butter (or other nut butter) and Jelly Sandwiches
Who doesn't love a good peanut butter and jelly sandwich? Well, I sure do, but as I've gotten older my body has been less willing to digest it efficiently. So we've switched to almond butter, cashew butter, or almond butter sandwiches.
Regardless of the protein source, they are all so delicious with the same Mission Gluten Free Soft Taco Flour Tortillas. Both the nut butter and the jelly will last forever unrefrigerated. Looking for some variety? Try any of Stonewall Kitchen's pepper jellies for an added kick!
7. Make-ahead Gluten-Free Granola with Fruit
Sometimes time is of the essence. In these cases we'll bring along some homemade granola and fresh fruit (Sweet, juicy apples are our fav because they resist bruising, dates are another good option).
Granola can be made literally with anything, but our go-to is 4 cups gluten-free oats, ½ cup honey, 1 tsp vanilla, pinch of salt, pinch of cinnamon, and ½ cup coconut oil (liquid).
Mix well together and spread over a baking sheet lined with parchment paper. Bake for 10 minutes at 350 degrees Fahrenheit, remove and stir, return to the oven for another 10 minutes. Then just let it cool.
You can serve with dehydrated milk (just re-add water) or enjoyed dry (our preferred method).
8. No-Bake Lemon Energy Bites
These are not just a camping treat. We make them at home and enjoy them year round as part of our gluten-free lifestyle!
Energy bites are very similar to the make-ahead granola above, just with slightly different ingredients and formed into delightful little balls. Our favorite recipe is from Emily at One Lovely Life.
You'll need two cups raw, unsalted cashews, one cup unsweetened shredded coconut, 1 ¼ cup pitted Medjool dates (about 10), 1 tablespoon packed lemon zest, juice from one lemon, 1 teaspoon vanilla extract, and ½ tsp salt.
Process the cashews and coconut in a blender or food processor until crumbly. Then add the remaining ingredients and mix. Finally, shape into little dough balls and roll in some extra shredded coconut and lemon zest.
These are a bit like granola bars… only better!
Dinner
Dinner is the most important meal of the day in the backcountry, and is often the one where you have the most time because you are at camp and are done hiking/canoeing/biking for the day. It is also the hardest meal to avoid freeze-dried foods.
We have tried pretty much every brand and hundreds of gluten-free recipes. Below are our all-time favorite pre-packaged gluten-free camping meals!
9. Backpacker's Pantry BEST Pad Thai with Chicken
This just might be our #1 favorite trail dinner. It is the perfect blend of filling and flavorful, with 820 calories and 42 grams of protein per bag!
There is a little kick, but it is nicely paired with lime and peanuts. It might be a little spicy for most kids.
10. Trailtopia Szechuan Chicken and Rice
Trailtopia is a relative newcomer to the backpacking gluten-free meal ecosystem and just might be one of the best. Their meals are packed with flavor and many have significantly higher protein content than the competitors.
While the Szechuan Chicken and Rice is a little spicy for kids, it is perfect for adults, especially if your breakfast and lunch were more on the bland side.
11. GOOD-TO GO Mushroom Risotto
Good-To Go's Mushroom Risotto is to die for and is perfectly palatable for kids too! Risotto is a staple in our gluten-free household, given how easy it is to cook and the fact that it can be made with pretty much any protein and vegetable combination you can think of!
This particular risotto actually tastes like and has a similar texture to our home-cooked version! We think you'll love this even if you aren't a mushroom lover.
12. Good-To Go Thai Curry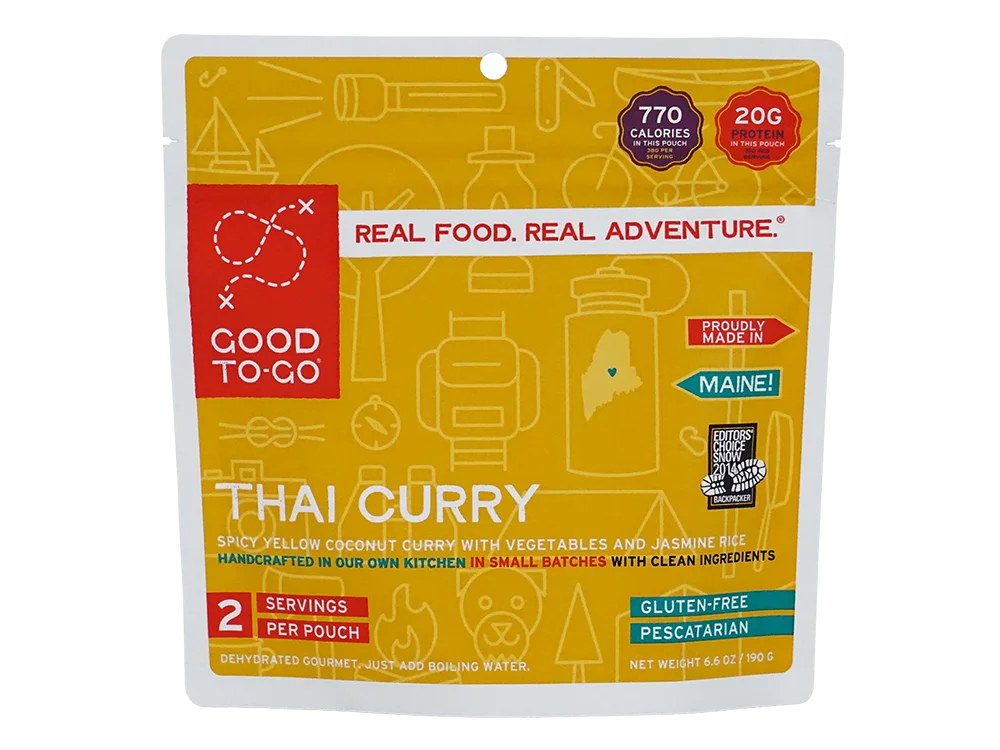 Again, big flavors here to offset what was likely oatmeal for breakfast and a PB&J for lunch. We love a good curry and this definitely hits the spot after a long day.
Like the Mushroom Risotto above, this too is vegetarian, however it is less palatable for the kiddos.
Foil Packet, Skillet, and other Open-fire Gluten-free Meals
Staying at a campground with a fire pit and a good fire grate or have access to a full camp stove? Then your options for gluten-free camping meals expand significantly! The ability to cook over an open fire opens you up to roasting, baking, dutch-oven and skillet meals that are to die for!
Breakfast
Goodbye Oatmeal. Hello traditional breakfast fare! Once you upgrade your heat source from a backpacking stove to a full camp stove or open fire, your options for breakfast expand considerably. Below are our favorite, and super easy, gluten-free camping breakfasts.
13. Good Ol' Fashioned Eggs and Bacon
We can't think of a more satisfying breakfast than eggs and bacon, and for some reason that combo tastes all the better when cooked over a campfire.
We use a lightweight cast-aluminum frying pan. The best part is this meal does not require additional cooking oil. Just cook the bacon in the pan. Then pull the cooked bacon out and add in the eggs. If there is too much oil, just dump some into the fire pit. Talk about an easy breakfast!
14. Birch Benders Gluten-free Pancakes
Ok. We have two favorite breakfasts. The other is pancakes! We use ghee as the cooking oil, largely because it is shelf stable and can handle the rigor of living outdoors without going rancid. Olive Oil works well too.
Our preferred pancake mix is Birch Benders Gluten-free Pancake Mix, which does not require any additional ingredients apart from water. If you want a fuller-tasting pancake, you can either add milk if you have it, or add a tablespoon or two of powdered milk. We prefer the latter.
15. Foil Packet Lumberjack Breakfast
Lumberjack Breakfast is one of our favorite foil packet meals. It is a super simple and tasty breakfast that's perfect for cooking over a campfire, on a grill, or in your oven. We love Seeking the RV Life's recipe, and the best part is they can be customized to your family's taste buds.
We use refrigerated hash browns, diced onions, diced bell peppers, sausage, eggs, cheese, and a little salt. You can use fresh or quick cook veggies. Just add all of the ingredients together on a large piece of aluminum foil and wrap. We like to double or triple wrap ours to avoid any spillage.
Order doesn't really matter here, but we start with hash browns on the bottom, then sausage, vegetables, and lastly eggs (scrambled for us). They can be placed directly on some hot coals, on the campfire grate, or on a pan (covered), on your stove and take about 20 minutes to cook.
16. Gluten Free Dutch Oven Breakfast Bake
What camping trip isn't complete without a hearty Dutch Oven meal? Like the foil packets above, use this as a general guide, and check out our favorite recipe from CampFireFoodie. You can adjust the ingredients and flavors to suit your family's taste.
We make ours with a package of hash browns, a package of bacon, diced onions, red peppers, and garlic, eggs, cheese, and salt.
To cook, place the diced bacon and vegetables into the pan and simmer for a couple of minutes. Then add in the hash browns, eggs, cheese, and a pinch of salt. There is no need to worry about measuring. Just throw in what you have on hand and we promise it will turn out alright!
You can prepare much of this simple camping meal in advance at home.
Lunch
Now that you have an open fire, or at least a full camp stove, a whole new world of camp food awaits! Our favorite is that you can bring along gluten-free corn tortillas and add them to just about any meal, including the breakfasts above! And if your lunch ever feels a bit light, just add some trail mix as a snack!
Here are our favorite gluten-free camping meals for lunchtime.
17. Homemade Gluten-free Camp Tacos
We pre-season the ground beef from the comfort of our kitchen so it is ready to be cooked. Just add the meat to your pan and cook thoroughly. We love the recipe from Amanda Outside, however swap out the flour for gluten-free corn tortillas
Serve with whatever you have on hand, like diced tomatoes, onion, avocado, cilantro, and some hot sauce! Roast the corn tortillas over the fire and get ready to be wowed.
18. Gluten-Free Grilled Cheese and Fresh Fruit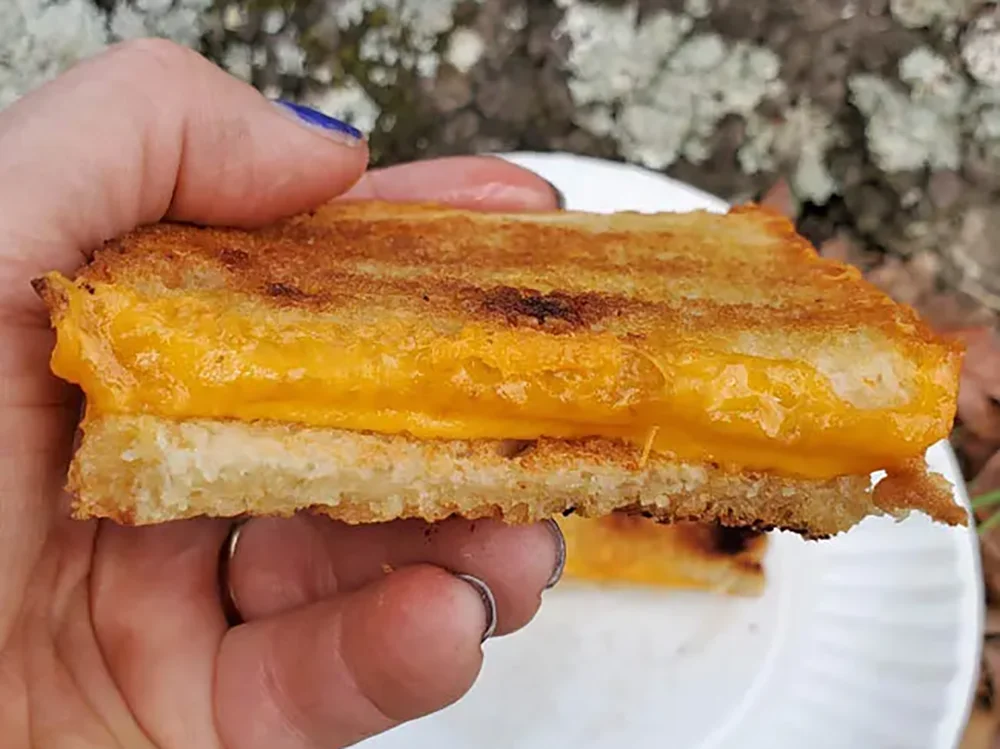 It can't get much easier than this gluten-free family friendly meal! We prefer cheddar cheese and Udi's gluten free bread. Let's Camp S'more has a great tutorial, just swap out the bread for your favorite gluten-free version.
Butter your bread and add about one ounce of cheese per sandwich. Grill until crispy on one side, flip, and finish off the other side. We like to pair these with a nice, crisp apple, but really any fruit will do.
19. Corn Tortilla Cheese Quesadillas
This lunch is sure to satisfy the tastes of even your youngest guests and takes no time at all to cook. Just take two corn tortillas (we like La Banderita brand), fill with cheese, and cook on both sides. Don't forget the sour cream! Check out Midwest Foodie for an easy and delicious recipe.
Serve with salsa and a fruit salad for a well-balanced meal.
20. Salami Sandwiches with Toasted Gluten-free Bread
These are like the backpacking-stove only version above, but better. We love Boar's Head Peppered Salami (whole) paired with a good aged cheddar or Parmesan (aged cheeses last the longest). But instead of Mission Gluten Free Soft Taco Tortillas, we use Udi's Gluten-free bread and toast it on the fire grate for an added flair!
The truth is, most gluten-free bread products are dry when eaten from the package. We almost always toast gluten free bread, tortillas, etc. The heat softens the texture and the charring adds some complexity.
Dinner
Camp dinner is a time to go all out with both flavors and calories. There is no better way to add complexity and a sense of awe to a dish than to cook it outdoors over an open fire.
Below is a list of our favorite gluten-free camping meals for dinner time.
21. Grilled Hot Dogs and Brats
Hot Dogs and Brats are easy, cheap, and require little effort or cleanup. Sign us up! We love Nathan's hot dogs and Johnsonville Cheddar and Jalapeño brats, but you can bring whatever you like!
Just grill to your preferred level and throw in a gluten-free hot dog bun. Again, we prefer Udi's, however Schar also makes an excellent gluten-free hot dog bun. Make sure you toast them a bit to soften the texture and add some flavor.
Top them off with your favorite condiments and you are good to go!
22. Gluten free Foil-packet Hobo Dinner
This brings me back to my days in the Boy Scouts. All you need is ground beef, potatoes, carrots, onions, oil, and seasonings. Put the ingredients in to a foil packet, place directly on the coals, and enjoy the atmosphere as your meal cooks unattended!
We follow the recipe at The Recipe Critic, and it never fails.
23. Super Easy Dutch Oven Chili
If you are a crock-pot cook at home, then the Dutch oven is your friend. Fill it with hearty ingredients, add heat, and sit back while your meal cooks. We love a good chili and love it even more over an open flame.
Like with any chili, just brown your meat, cook your veggies, add in the beans and spices, and let it cook for a couple of hours. Camping for Foodies has a recipe we follow and a ton of great tips on cooking with a Dutch oven while camping!
24. Gluten-free Cheeseburgers
This is another great make-home meal option. We make our beef patties at home and prefer our burgers to taste, well, like burgers. We keep it simple with just ground beef, ground pepper, and salt.
Adventures of Mel has an amazing Bacon Cheeseburger that is worth checking out. Just make sure you swap out the bun for a gluten-Free version
Grill the burgers like you would at home, or pan fry them if you are using a camp stove. Add cheese and toasted Udi's or Schar gluten-free hamburger buns. Top with your favorite condiments and fresh veggies if available.
Keep the side simple. Serve with some potato chips and enjoy!
Desserts for all Camping Styles
Gluten-free camping deserts range everywhere from simple to complex. We focus on the former because we like to spend our time camping, not cooking! Below are six of our go-to deserts that work well both backpacking and car/RV camping.
25. Smores with Gluten-Free Oreos
S'mores are our dirty little secret. We had almost given up on them when the graham crackers kept crumbling in our packs and the chocolate bars melted everywhere. That's when we decided to give Gluten-free Oreos a try.
We've never gone back. These are best roasted over a fire, but in a pinch we've roasted our marshmallows over our Jetboil backpacking stove. Just be careful because they roast fast!
26. Piles of Candy
By simple, we really mean simple! Why spend another evening slaving away in your camp kitchen? Just bring a stash of everyone's favorite candy and enjoy! We stick to hard candies like suckers and soft candies like Starburst. Chocolate is all well and good until you leave your pack out in the sun too long…
27. Trailtopia Gluten Free Apple Crisp
We love a good Apple Crisp, and Trailtopia has done an excellent job developing a gluten-free version of the classic desert. The highlight is the separate packet of homemade crisp topping that adds a nice, crunchy finish. Our kids even love it!
28. Campfire Apple Crisp Foil Packets
Same as above but with a little more effort. We love the recipe from Recipes From a Pantry. You can make them in foil packets or in your Dutch oven. Both are easy, but not quite as easy as buying them from Trailtopia! The best part is, you only need five simple ingredients!
29. Backpacker's Pantry Creme Brulee
Backpacker's Pantry is by far our favorite freeze-dried meal companies. Their Crème brûlée is to die for. It is sweet and creamy and comes with a crunchy toasted sugar topping. We hate to admit it publicly, but we even bring it car camping (lazy, we know)! But why go through all the hassle when there is a simple and delicious option out there?
30. Astronaut Ice Cream
Yes, they are childish and yes we love them! There, we said it. The truth is they are actually pretty good and come in a couple of different flavors.
They are perfect for those nights where dinner came late, you are tired, but are craving something sweet. If you haven't tried one, yet it is time to treat yourself to some Astronaut Ice Cream!
Final Thoughts on Gluten-Free Camping Meals
We'll reiterate, a gluten-free diet is not a jail sentence. The culinary world has evolved considerably over the past decade, so preparing a gluten-free camping menu and eating like a king or queen does not have to hold you back.
Our camping philosophy is all about having fun and enjoying the outdoors. That means simple recipes with limited ingredients, so we can better enjoy our time outdoors.
Whether you are a beginner or a seasoned camper, the gluten-free recipes in this post should be accessible and oh, so delicious!
Check out More Camping Related Articles
The Time We Forgot Our Tent – A fun story about a camping trip to George Crosby Manitou State Park in Minnesota when Dad forgot the tent.
How To Pack a Youth Survival Kid for Camping – Take a look at what our kids pack in their survival kits on backcountry camping trips
The BEST Beginner Trip to the Boundary Waters with Kids – Curious about going to the Boundary Waters Canoe Area Wilderness in Minnesota? This is the perfect trip for newbies or families with young kids.
The Best Boundary Waters Camp Saw for 2023 – Looking for a new camp saw? The Agawa Boreal 21 is our new favorite! Read to learn more.
Gluten Free Trail Snacks – Check out our guest post on the TrailCollective blog with 11 of our favorite gluten-free trail snacks!
We'd Love to Hear From You!
Let us know what you think in the comments, on Instagram, or on Facebook!